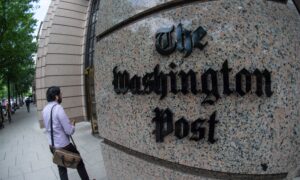 The Washington Post announced that it will slash several positions in cutbacks, one week after the publication's owner, Jeff Bezos, visited the offices.
At least 20 newsroom staffers have been terminated, and 30 open positions will not be filled, according to a Jan. 24 note addressed to staff from the paper's executive editor, Sally Buzbee.
This is the latest in a series of job cuts at media and technology companies, as the economy faces a period of uncertainty and a decline in ad revenue and paying readers.
Other news media outlets, which have announced layoffs this past month include Vox Media, Adweek, and NBC News.
CNN, Vice Media, and Morning Brew all laid off staffers at the end of last year, while Politico's tech news site, Protocol, folded.
Layoffs Amid Wave of Job Cuts at Media Outlets
The Post's CEO and publisher, Fred Ryan, told staff in mid-December, that the newsroom would eliminate a "single-digit percentage" of its 2,500-person staff, as it "cannot keep investing resources in initiatives that do not meet our customers' needs."
However, Ryan said that the paper would continue to hire new personnel in other roles, and that The Post's total head count would mostly remain the same at the end of the year, even after the layoffs.
A Washington Post spokeswoman said the company will continue to expand its coverage in areas that provide "high value to our subscribers and new audiences," reported the paper.
"Senior newsroom editors with knowledge of The Post's goals and strategy are carefully evaluating each role to determine its impact to the readers," she continued.
The December layoff announcements have been a growing source of tension at The Washington Post, with at least 60 employees joining the paper's union, The Washington Post Guild, since that meeting.
 "Newsroom leaders made these decisions after a thoughtful and deliberate review of our current roles and vacant positions," Buzbee said.
"We prioritized the elimination of vacancies to minimize the impact on employees. We are also eliminating currently filled positions we concluded are not essential to serving our competitive needs," Buzbee wrote in her note.
"While such changes are not easy, evolution is necessary for us to stay competitive and the economic climate has guided our decision to act now.
"We believe these steps will ultimately help us to fulfill our mission to scrutinize power and empower readers," she concluded.
Buzbee informed the fired journalists that they were welcome to apply for other open positions at the paper.
Post's Newspaper Union and Section Editors Object
"While the number of people affected is reportedly far smaller than what Publisher Fred Ryan initially alluded to in his layoff announcement at last month's town hall, we believe any job eliminations right now are unacceptable," the union wrote in protest.
"The number should be zero," it complained.
The Post also dropped Launcher, its video game section, and KidsPost, an educational section dedicated to kids from second through seventh grades, according to reports.
Mike Hume, the editor of Launcher, stated on Twitter, calling the cutting of his section, "mindboggling."
"This news is sad, upsetting and, perhaps most of all, mindboggling. Over three years, Launcher attracted over tens of millions of users, the majority first-time readers of The Post and almost all of them under the age of 40," Hume wrote.
"What makes this news so hard is that Launcher was doing well! In '22, Launcher's traffic was up year over year."
"We were succeeding in our mission. I'm stunned. But mostly just sad to lose such wonderful, dedicated, caring colleagues," he concluded.