Officials in Arizona on Dec. 5 certified the results of the 2022 midterms after coercing supervisors in at least one county to certify vote tallies.
Arizona Secretary of State Katie Hobbs, a Democrat, canvassed the election and Arizona Gov. Doug Ducey, a Republican, oversaw the ceremony, which certified Hobbs as the winner of the gubernatorial race.
Hobbs, who refused to recuse herself from overseeing the election, cracked jokes and thanked voters during the brief ceremony, which Republican Arizona Attorney General Mark Brnovich and Arizona Supreme Court Justice Robert Brutinel also attended.
"These signed and sealed documents now constitute the official canvass and results of the Nov. 8th, 2022 general election," Hobbs said.
She and Ducey then signed the certificate finding Sen. Mark Kelly (D-Ariz.) the winner in the U.S. Senate race over Republican Blake Masters.
"Because of your participation, our democratic institutions thrived," Hobbs told voters. "Stay engaged and keep voting."
Ducey said that he was upholding the law by participating in the ceremony and said that it recognized the votes that voters cast. He also said the certification means Arizona can move forward.
Hobbs's office just referred two supervisors in Cochise County to Brnovich's office for allegedly committing crimes when they refused to certify the midterm results.
Cochise County's Board of Supervisors certified the results on Dec. 1. It was the last of 15 counties to do so. The certification came after a Nov. 28 deadline outlined in state law, on orders from a judge.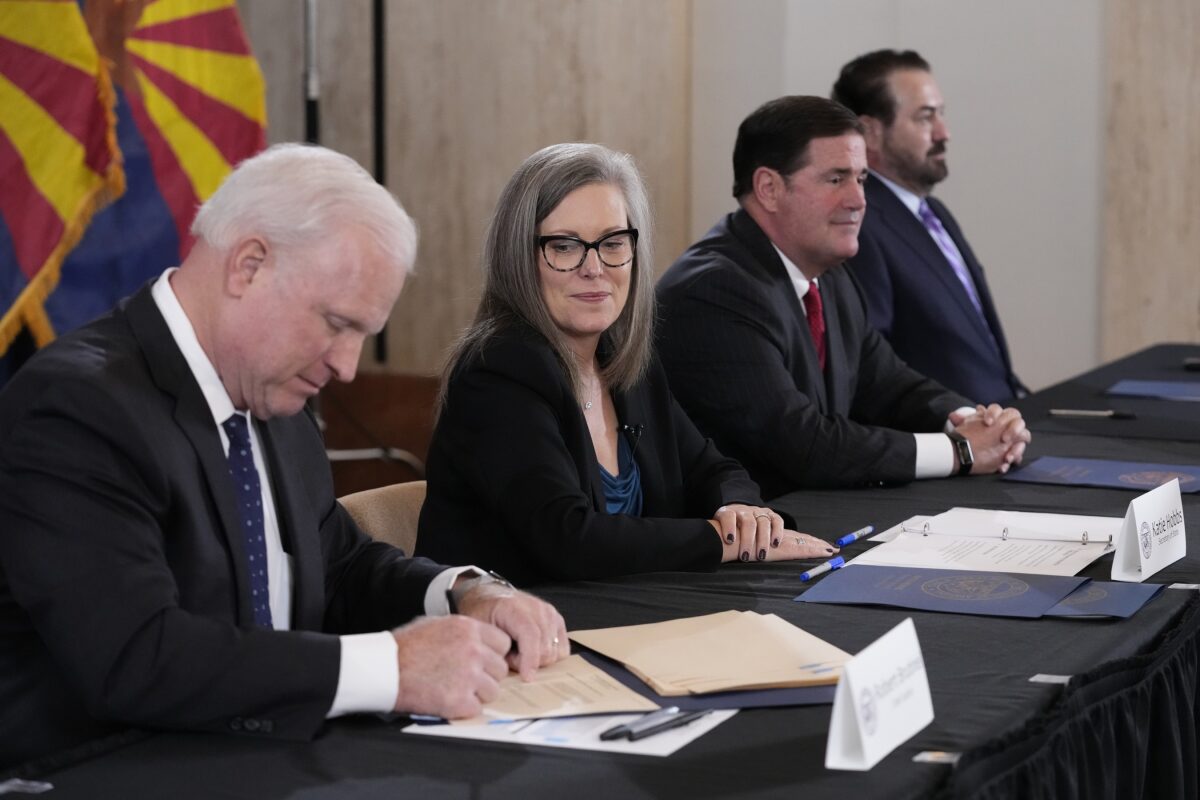 Recounts
Hobbs is now the governor-elect and Adrian Fontes, a Democrat who used to be Maricopa County's recorder, is the secretary of state-elect.
The margin in several races is so slim that a recount is expected to be ordered. The races are for attorney general, state superintendent, and one of the state legislative seats.
Arizona law requires recounts if the margin is within 0.5 percentage points.
Democrat Attorney General candidate Kris Mayes leads Republican Abe Hamadeh by 511 votes out of more than 2.5 million cast. Republican Tom Horne leads Democrat Kathy Hoffman by about 9,000 votes in the race for state superintendent. In the battle to represent Arizona District 13, three candidates all received between 43,558 and 47,177 votes.
'Under Duress'
At least one county official said he was coerced to certify the results.
Mohave County Board of Supervisors Chairman Ron Gould said in late November that he voted "under duress" because he was informed that he would be arrested and charged with a felony if he did not.
Officials in Mohave said they believed their elections ran smoothly but pointed to widespread problems in Maricopa County, where tabulators stopped working properly at dozens of polling sites on Election Day, affecting an estimated 16,000 ballots.
The Maricopa County Board of Supervisors voted to certify the results on Nov. 28. after hearing from members of the public, many of whom said the certification should be delayed until all legal challenges are resolved.
Election officials said the county followed state and federal laws, responding to Brnovich's office, which had asked for an explanation about the malfunctioning equipment and long lines.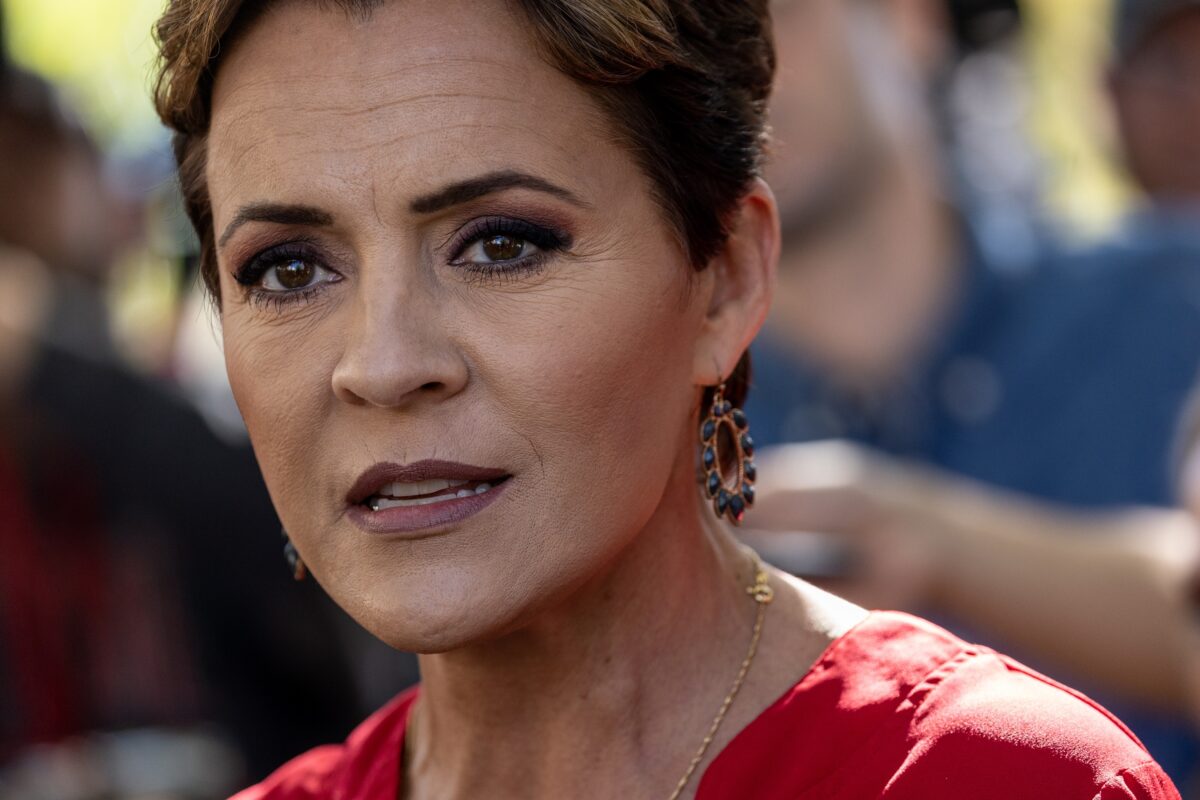 Lawsuits
Both Kari Lake, the Republican who vied with Hobbs to succeed term-limited Ducey, and Hamadeh, the Republican running to succeed Brnovich, have filed lawsuits over the election.
Lake sued Maricopa County officials on Nov. 23 over the tabulator problems, requesting a judge compel the officials to produce certain records.
Lake's lawyers were sanctioned last week over an earlier lawsuit they had filed which the judge described as a baseless filing.
Lake's campaign, meanwhile, said the judge, Obama-appointed U.S. Judge John Tuchi, appeared to want "to send a message."
"The message is if you lose shut up and don't come to court. The message is not that you lost a case or acted in bad faith," the campaign said.
Lake has vowed to launch additional lawsuits.
Hamadeh, meanwhile, said issues in at least 15 counties led to "the unlawful denial of the franchise to certain qualified electors" and erroneous vote counts.
His suit was dismissed on Nov. 30, with a judge ruling that the suit could not be filed until after Arizona certifies the election.
Arizona law lets voters contest an election but states that such a challenge must be lodged "within five days after completion of the canvass of the election and declaration of the result thereof by the secretary of state or by the governor."
Hobbs said Monday that the election "was conducted with transparency, accuracy, and fairness, in accordance with Arizona's election laws and procedures."
Allan Stein contributed to this report.