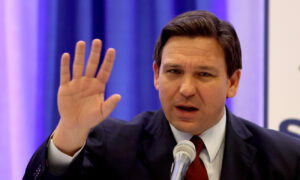 Florida's Governor Ron DeSantis is working to protect against the Chinese Communist regime and countries perceived hostile to American interests. Find out what steps he's taking to reduce influence and espionage.
As many Russians flee their country in fear of war and conscription, a key vote will take place in four Russian-controlled Ukraine regions.
Boeing to pay $200 million dollars to settle civil charges.  The company and its former C-E-O are accused of misleading investors about its 737 MAX.
Topics in this episode include:
1. Gov. Ron Desantis: 'Stop CCP Influence'
2. US Aircraft Carrier in South Korea
3. Russians Flee After Putin Mobilization
4. Boeing to Pay $200M to Settle Civil Charges
5. Pandemic Unemployment Benefit Fraud
6. Tesla Recalls Over 1 Million Vehicles
7. Mexico: 110 Migrants Crammed in Unventilated Truck
8. Japan Ending Covid Restrictions
9. Marijuana to Remain a Banned Substance at Sports Events
10. Caf Airshow Displays Rare WWII Aircraft
11. Panama Launch of Futuristic Home Goes Sideways
12. Drought Prompts Early Harvest of Rosé Wine in France
13. Over 200 Whales Beached in Tasmania
14. What's Within You Only Thing That Matters: Model
* Click the "Save" button below the video to access it later on "My List."
Follow EpochTV on social media:
Twitter: https://twitter.com/EpochTVus
Rumble: https://rumble.com/c/EpochTV
Truth Social: https://truthsocial.com/@EpochTV
Gettr: https://gettr.com/user/epochtv
Facebook: https://www.facebook.com/EpochTVus
Gab: https://gab.com/EpochTV
Telegram: https://t.me/EpochTV