What was supposed to be a hearing about provocateur Ray Epps before the House Committee on the Judiciary on Sept. 21 quickly devolved into a shouting match between Democrat lawmakers pushing a Jan. 6 falsehood and Republicans who insisted that being labeled "conspiracy theorists" won't stop efforts to learn the truth.
If the goal of the committee was to find the truth, the hearing fell short.
It did succeed, however, at showcasing the expanding divide between political camps over Jan. 6, the 2020 election, former President Donald Trump, and the future of the country. All falling under the backdrop of crucial midterm elections.
The hearing was rife with barbs and insults.
Rep. Jamie Raskin (D-Md.), at times shouting, asserted that Trump is a "cult leader" and a "compulsive liar." He ripped the GOP committee members for pushing "some utterly frivolous rabbit-hole conspiracy theory to try to pull a smokescreen over the eyes of the public."
Rep. Mondaire Jones (D-N.Y.) repeatedly referred to Trump as "Orange Jesus," a term he said he heard from a Republican colleague.
"This loyalty to Orange Jesus … is going to ruin our democracy. And more innocent lives are going to be lost in the process if you guys keep this up," he said. "It is not too late to join House Democrats in honoring our oath to the Constitution."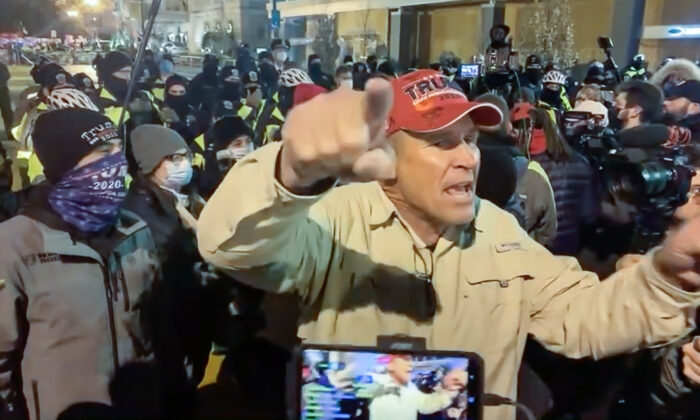 The committee was debating a resolution that would have directed the Biden administration and the Department of Justice to turn over all records it has on Epps, who incited protesters to enter the Capitol on Jan. 6 but was never arrested or charged.
The resolution ultimately failed on a party-line vote. An alternative seeking information on all agents provocateur working for the government was also rejected.
Epps, a former Oath Keepers leader who was seen all over the Capitol grounds on Jan. 6, was treated to a stout defense by Democrat lawmakers.
Raskin urged his Republican colleagues, "leave that guy alone," referring to Epps as a "poor schmuck."
NY Rep Sparks Firestorm
What initially drove the hearing off the rails were comments from Jones, who insisted that a U.S. Capitol Police (USCP) officer was murdered during the protests and subsequent rioting on Jan. 6.
"At the direction of Donald Trump, a violent mob stormed the Capitol in an attempt to change the results of a free and fair presidential election," Jones said. "In the process, 138 capitol and DC police officers were injured, a Capitol police officer was bludgeoned to death and two more Capitol police officers died by suicide in the days that followed."
The comment drew quizzical looks among some committee members. Rep. Dan Bishop (R-N.C.), asked Jones to whom he referred.
"I can get that information for you in a few minutes," Jones said. "Are you denying that at least one Capitol Police officer was murdered in the midst of what happened on Jan. 6?"
Bishop and other lawmakers attempted to set the record straight.
No police officers were killed on Jan. 6. Officer Brian Sicknick died on Jan. 7.
An early, widely repeated story claimed that rioters smashed Sicknick in the head with a fire extinguisher. That was false.
The District of Columbia's chief medical examiner ruled the death from natural causes. Death was caused by a stroke and not a result of injury.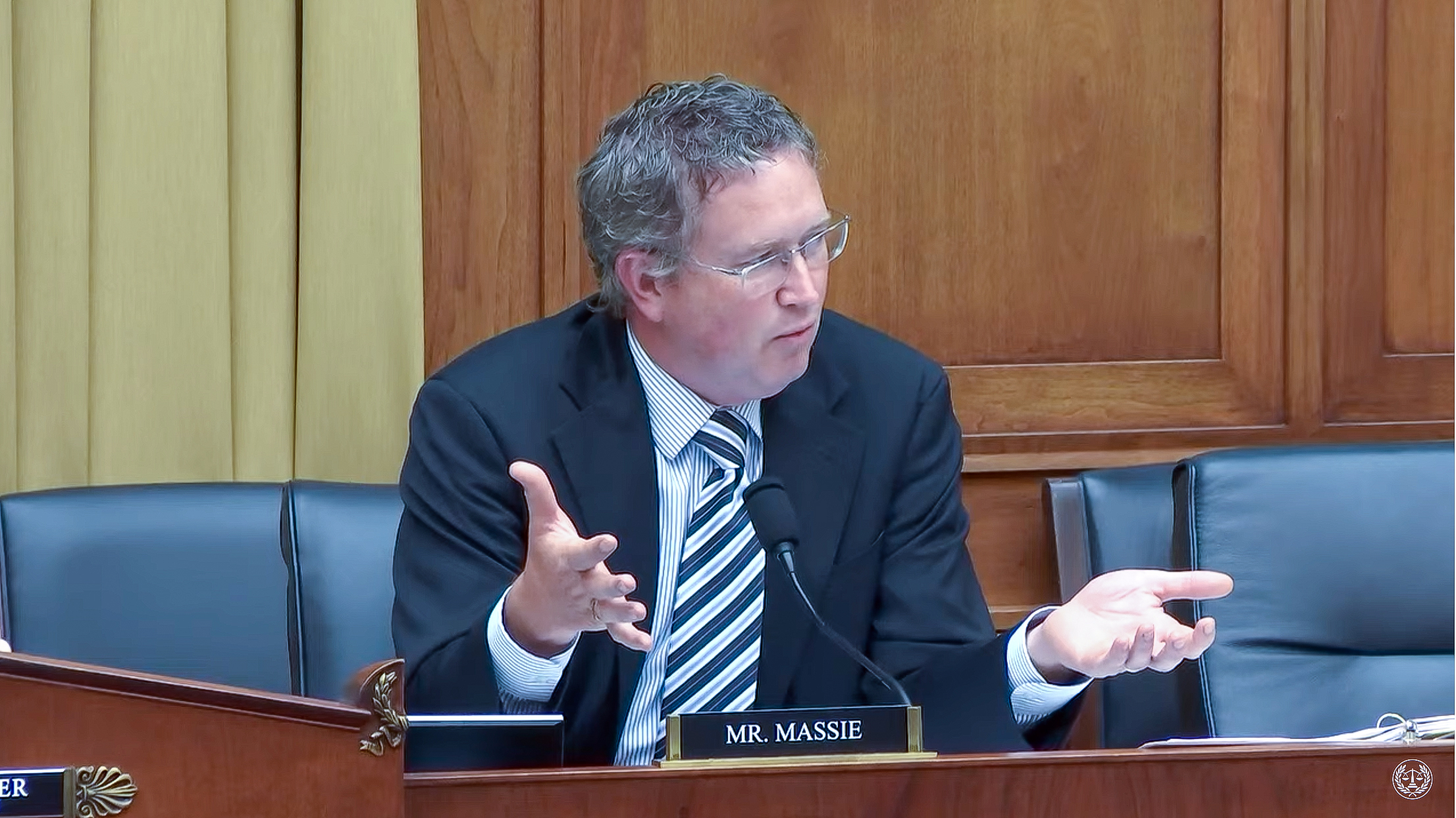 Four people died on Jan. 6. All were Trump supporters.
Ashli Babbitt was shot and killed by U.S. Capitol Police Lt. Michael Byrd.
Rosanne Boyland died after becoming trapped under a human pile and later being beaten by a police officer wielding a wooden walking stick.
Kevin Greeson and Benjamin Phillips died of cardiac events, although both were in close proximity to the detonation of police incendiary munitions.
Judiciary Committee chairman Jerrold Nadler (D-N.Y.) read a media story dated Jan. 7, 2021, that said Sicknick "passed away due to injury sustained while on duty."
Rep. Matt Gaetz (R-Fla.) said the bad information was ultimately due to the House Jan. 6 Select Committee's mission failure.
"The Jan. 6 Committee got its authority to like set the historical record, to deliver the truth to the American people. And they couldn't even deliver the truth to the gentleman from New York," Gaetz said.
"We have this entire committee process that was supposed to inform the country as to what happened, and on this basic question, it seems as though my colleague fell for an urban legend."
A shouting match broke out between Rep. Madeleine Dean (D-Pa.) and Bishop when she turned to him and other GOP members and said, "You bring shame on this body" for discussing Sicknick's cause of death.
That led to Bishop asking that Dean's remarks be stricken under parliamentary rules of decorum.
Later in the hearing, Bishop dismissed the attitude of some on the committee that the details of Sicknick's death were not important.
"I don't think we'll make any progress in this country if we have our own sets of facts," he said. "No one was bludgeoned to death at the Capitol that day. No one."
Not For The Memory Hole
Rep. Thomas Massie (R-Ky.) played a video compilation of Epps telling protesters to not just go to the Capitol but in the building. Massie said his resolution was an important effort to wrest details from the government on whether Epps worked for any federal agency.
"This is the only person that we have on video before the events on Jan. 6 saying, 'Go into the Capitol, go into the Capitol.' He says, 'I'll probably go to jail for this. I'll probably be arrested.' He knew what he was saying."
Massie cited reporting from The Epoch Times on Epps' two interviews with the FBI, in which Epps said he was expecting there could be a bomb set off on a side street on Jan. 6.
"Why don't we have that interview?" Massie asked. "Why have none of us heard that interview?"
Massie said if Ray Epps is just a conspiracy theory, that will come out when all of the records about him are released to Congress.
"This resolution is important. You're not going to memory hole this," Massie said. "There were cameras everywhere. You can create your own thesis for what happened. But if your thesis is in contradiction with things that hundreds of millions of Americans can observe—and nobody disputes—you have to resolve that.
"And the only way we can do that is by getting to the truth."