Former President Donald Trump says he is neither aware of nor worried about whether Florida Gov. Ron DeSantis will challenge him for the GOP presidential candidacy in 2024.
"I don't know if Ron is running, and I don't ask him," Trump told The New Yorker. "It's his prerogative. I think I would win," he said.
Since leaving the White House last year, the 45th president has repeatedly hinted at plans to run for a third time. Trump confirmed that he was "very close to making a decision" about whether to run for a 2024 presidential bid.
Yet while many prominent Republicans have said they won't run if Trump does, DeSantis has declined to make such a promise.
There is speculation that DeSantis could run for president in 2024, given his popularity among Trump's voter base. Unlike Trump's ​​typical dominance in polls as the front runner for the GOP's 2024 presidential nomination, recent polls show the Florida governor is narrowly edging him out.
A straw poll at the 2022 Western Conservative Summit earlier this month in Colorado showed DeSantis besting Trump by three points with a 74 percent candidate approval rate, while Trump received 71 percent from the attendees. In another poll conducted at the Wisconsin State GOP convention in late May, 38 percent backed DeSantis in a hypothetical 2024 Republican field including over two dozen potential candidates, versus 32 percent of the vote for Trump.
Despite the position of DeSantis in Republican circles, Trump claims to have a "very good relationship" with the governor and said he takes pride in his work.
A request for comment from DeSantis wasn't immediately returned.
Both the leading contenders have played down the notion of tension between them, as anonymously-sourced reports have claimed since last year that Trump has been criticizing DeSantis behind closed doors and is irritated the latter won't commit to not running in 2024.
In response, DeSantis said, "This is what the media does," and, "You cannot fall for the bait."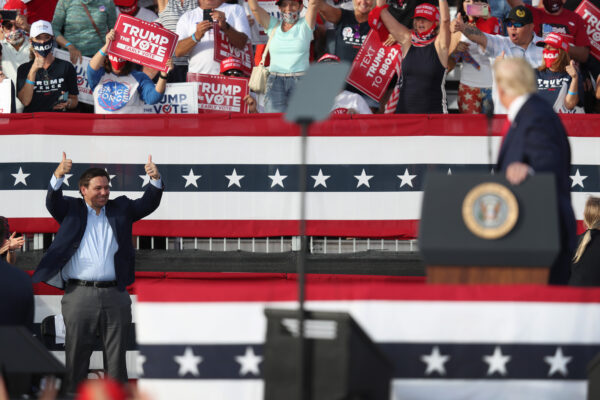 Up for a midterm reelection in Florida this year, DeSantis brushed off questions about 2024, saying he is only focusing on his current campaign and serving his state. The conservative governor pushed for a quick reopening during the pandemic and lashed out at Disney for speaking out against a parental rights law he signed in late March.
Tech billionaire Elon Musk, who recently declared himself a Republican, said on Twitter on June 15 that he would possibly vote for DeSantis in the 2024 presidential election if he were to run, in response to a question from a popular Tesla fan account.
Trump, who will be 78 in November 2024, admitted early in April that his health could prevent him from launching a third consecutive presidential run.