Rep. Jim Jordan (R-Ohio) said that a Republican in the House would investigate allegations that White House COVID-19 adviser Anthony Fauci was involved in trying to shut down narratives about the virus possibly leaking from a laboratory in Wuhan, China.
In January of this year, Republican lawmakers disclosed a conference call that included Fauci, former National Institutes of Health Director Francis Collins, and other scientists who consulted with the federal government in which they discussed the origins of COVID-19.
"It was on this conference call that Drs. Fauci and Collins were first warned that COVID-19 may have leaked from the [Wuhan lab] and, further, may have been intentionally genetically manipulated," the Republicans' letter said at the time, adding: "It is unclear if either Dr. Fauci or Dr. Collins ever passed these warnings along to other government officials or if they simply ignored them."
Jordan on Monday told the Washington Examiner that Republicans are looking to speak to 11 virologists who may have been on the conference call.
"Those are the first people you want to talk to. You want to talk to the 11 guys on that call, and you want to find out what exactly did happen. We've seen the emails and correspondence after the call, subsequent to the call, but what all happened?" the Republican from Ohio said.
"We want to find out what exactly Dr. Fauci and Dr. [Francis] Collins may have had to say on that particular phone call. So that's how you start investigations. You don't bring in Fauci for a deposition right away," he remarked, adding that Republicans will "start by looking" at the scientists who were on the conference call and "get all the documents you can in unredacted form—so that's something that needs to happen."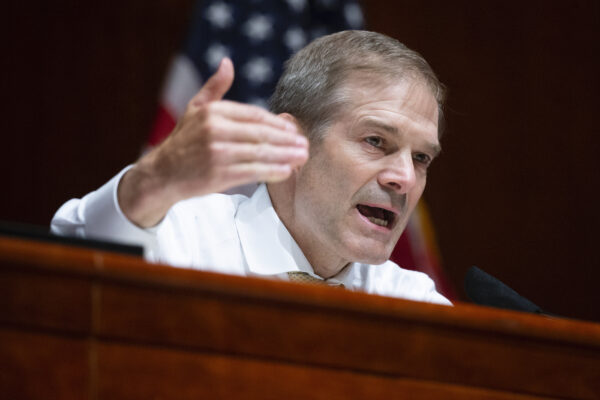 Based on the emails, Republicans are "convinced" that "Dr. Fauci, Dr. Collins, and others knew right from the get-go that this thing most likely came from the lab, and I think they took real concerted steps to make sure the country didn't get that information," Jordan added.
In January, Jordan and Rep. James Comer (R-Ky.) said they observed notes from the conference call, which occurred Feb. 1, 2020. An email from Dr. Jeremy Farrar to Collins, Fauci, and current NIH Acting Director Lawrence Tabak said that "a likely explanation" could involve "accidently creating a virus that would be primed for rapid transmission between humans[.]"
Several months later, Fauci, Collins, and Tabak were privately and publicly dismissing the Wuhan laboratory leak theory as a "conspiracy theory."
"I hoped the Nature Medicine article on the genomic sequence of SARS-CoV-2 would settle this. But probably didn't get much visibility," Collins said in an email, referring to the CCP (Chinese Communist Party) virus that causes COVID-19. "I would not do anything about this right now. It is a shiny object that will go away in time," Fauci said in return, according to emails that were released last year.
But other emails that were sourced by Jordan and Republicans suggest that the "consensus on the" February 2020 "call is that this thing probably came from a lab," Jordan said, according to the Examiner.
The Epoch Times has contacted the National Institutes of Health for comment.