Four Republican Congressional runoffs in Georgia on June 21 could contribute to swaying the balance of power on Capitol Hill this November.
Under Georgia law, the top two candidates advance to a runoff if nobody surpasses 50 percent in the primary election.
The June 21 runoffs feature two Donald Trump-endorsed candidates—Vernon Jones in the 10th Congressional District and Jake Evans in the 7th Congressional District.
Brian Robinson, a Republican strategist who is president of Robinson Republic, told reporters this represents another test of Trump's endorsement influence. So far in 2022, the former president has a 119-8 record in primary endorsements.
"We've seen Trump continue to maintain significant influence in open seats, which both of these are," Robinson explained. "Vernon Jones' campaign really relies almost solely on the Trump endorsement."
10th Congressional District
The 10th Congressional District seat opened after Rep. Jody Hice unsuccessfully ran against incumbent Brad Raffensperger in last month's Republican primary for Georgia secretary of state.
Incumbent Republican Gov. Brian Kemp, who decisively defeated Trump-endorsed David Perdue last month, recently announced he is backing Mike Collins in the 10th Congressional District runoff against Jones.
Collins also received the backing of all six primary candidates who did not advance to the runoff.
The winner will face Tabitha Johnson-Green or Jessica Fore, the candidates in the Democratic primary runoff. Green and Fore remained in the race after a recount requested by third-place finisher Phyllis Hatcher did not change the results.
Jones and Collins are both outspoken Trump supporters.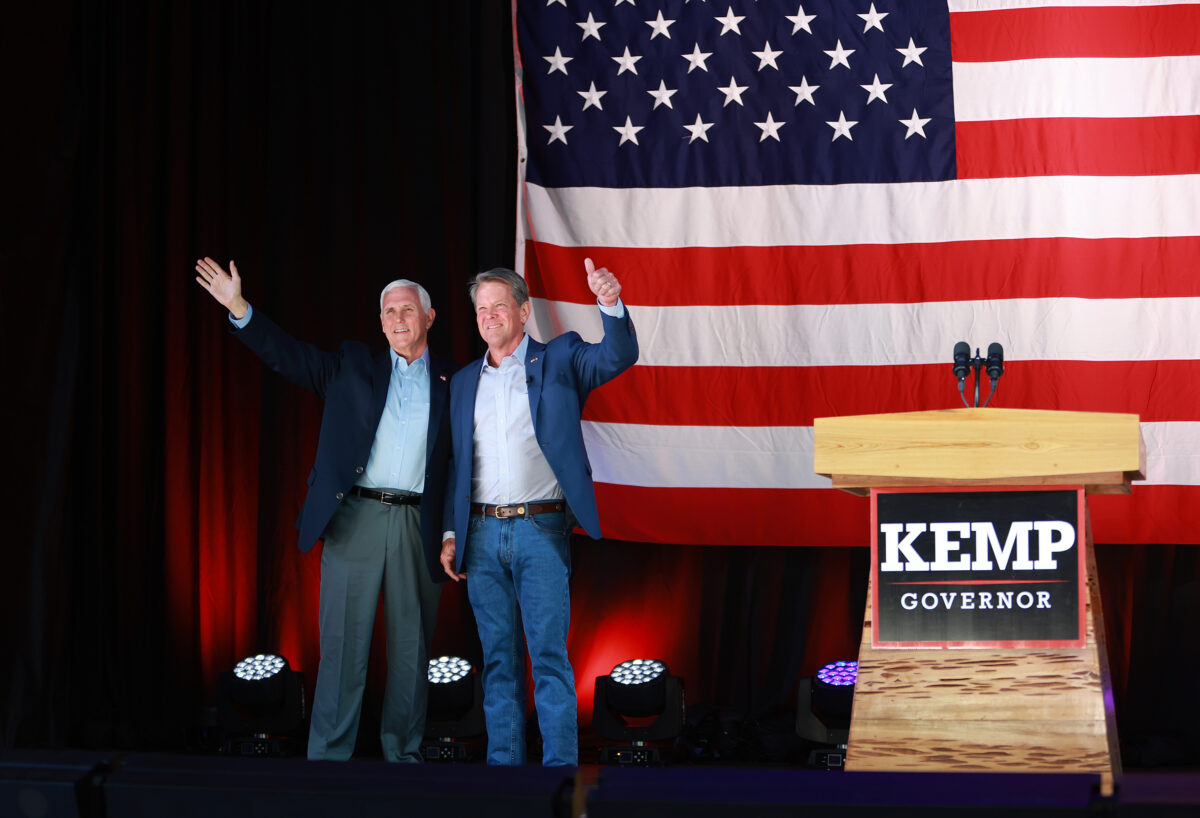 A lifelong Democrat and a former state representative, Jones switched parties, endorsed Trump's 2020 Presidential campaign, and left the Georgia state house in 2021. At Trump's urging, he stepped out of the Republican gubernatorial primary to give Perdue a clearer path.
Jones, who has called himself "the black Donald Trump," secured the former president's endorsement in the U.S. House race in a district that covers 18 counties east of Atlanta and stretches through Athens and Elbert County to the South Carolina line.
He is also endorsed by the National Rifle Association.
"I'm Trump vetted, I'm Trump trusted and I'm Trump endorsed," Jones said at a Henry County Republican Party event in suburban Atlanta earlier this month. "I don't have to pretend I was with [former] president Trump. I held the line for [former] president Trump. And I'm not backing off [former] president Trump."
Collins is the son of the late former Republican congressman Mac Collins, owns a trucking company, and drives an 18-wheeler to campaign events.
In the May 24 GOP primary, Collins received 26 percent while Jones received 22 percent. Collins has the fundraising edge, too. He has spent $517,000 compared to $397,000 for Jones.
Jones has lost bids for the U.S. Senate, U.S. House, and county sheriff.
In a June 6 debate sponsored by the Atlanta Press Club, Collins said, "Vernon Jones is a con man. I think that's what we're getting down to—it's just a trust issue."
Jones has responded by criticizing Collins for giving his campaign a $465,000 loan after his trucking company was forgiven $920,000 in Paycheck Protection Program loans.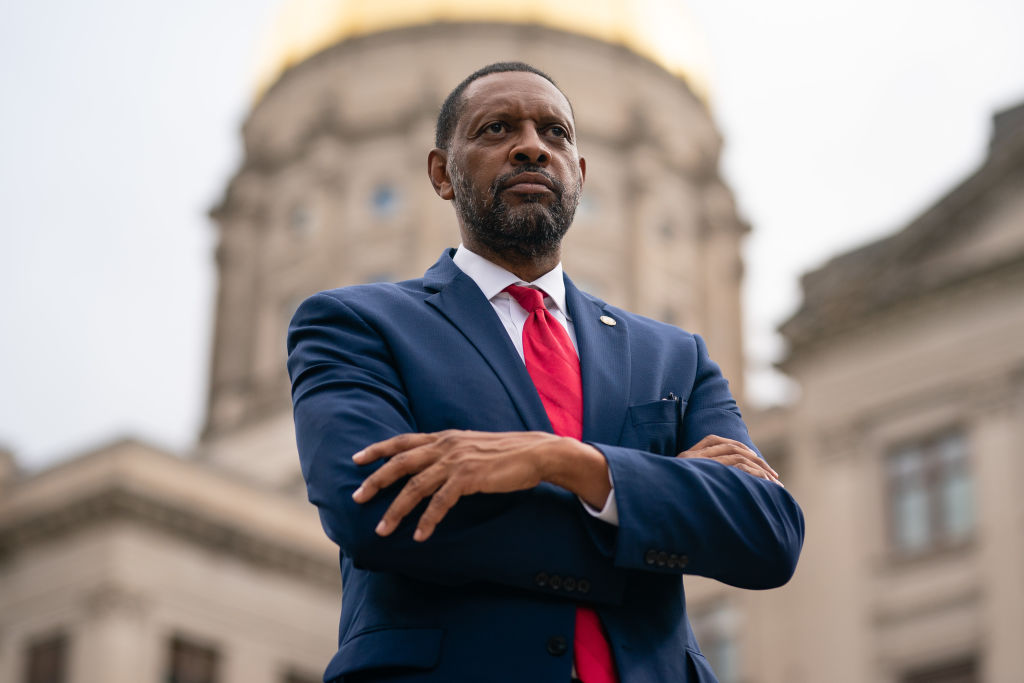 Jones has accused Collins of using federal money in his campaign, a charge Collins has denied.
"He is the crook," Jones said in the Atlanta Press Club debate. "He stole hard-earned taxpayer dollars."
Collins told Henry County Republicans that they should vote for him "if you're looking for somebody that is truly, unapologetically pro-Trump, an America First agenda candidate, conservative to the core, an outsider never been elected anything in my life."
Kemp maintains a residence in Athens and said he will vote for Collins on June 21.
"As a conservative small businessman, Mike knows firsthand how the disastrous policies of the Biden administration are hurting hardworking Georgians and communities all across our state," Kemp said in a statement. "Mike is strongly pro-life, pro-2nd Amendment, and will fight hard to put Georgians first in Congress."
Jones said that he is a political outsider and is not surprised that Kemp is backing Collins.
"Throughout my political career, I have never been the establishment's favorite. That's something to be proud of, not ashamed of, and is exactly why [former] president Trump endorsed me," Jones told reporters. "I'm not running for Congress to join the establishment. I'm running for Congress to destroy it."
2nd Congressional District
West Point graduate and former U.S. Army captain Jeremy Hunt faces attorney and Georgia Air National Guard officer Chris West in Georgia's 2nd Congressional District GOP runoff.
In the May 24 Republican primary, Hunt tallied 37 percent of the ballots with West in second at 30 percent.
Heading into the runoff, Hunt has outspent West 6-to-1 and received $300,000 from the American Values First PAC following the May 24 primary.
The 28-year-old Hunt, who is also a Fox News commentator, left Yale Law School and moved to Columbus, Georgia, to enter the race. Voting records from the Georgia secretary of state's office show that Hunt registered to vote in Muscogee County in February 2022.
West, 38, is "a lifelong south Georgian born and raised in the 2nd Congressional District," according to his website. He earned a bachelor's degree and master's degree at Valdosta State University in Georgia before his law degree. The Thomasville resident called Hunt a carpetbagger.
"We advanced to this runoff despite being outspent 11-1 by Jeremy Hunt and his Washington D.C. lobbyists and special interest donors who flooded this district with their crony, carpetbagging money," West said in a statement.
"The good news is the voters of middle and southwest Georgia know a phony campaign when they see one: and that's exactly why Jeremy Hunt was exposed."
At a debate, West quizzed Hunt about the district's communities.
"I'd just like for you to demonstrate to the audience that you do know this district and tell us which three counties the city of Jakin lies in, the city of Brinson lies in and the city of Mauk?" West asked. "What counties are those?"
Hunt accurately said Jakin is in Early County for Jakin, but he was incorrect with Brinson and Mauk.
Much of the district leans Democrat, but Republicans believe the seat can be flipped because of President Joe Biden's low approval rating, high gas prices, and a poor economy.
The district's map was redrawn and now includes around 45 percent of Republican-leaning voters.
Democratic Rep. Sanford Bishop, who received 93 percent of the vote in the May 24 primary and has held office since 1993, was named one of the most vulnerable incumbents by the Democratic Congressional Campaign Committee.
6th Congressional District
In Georgia's newly drawn 6th Congressional District, Trump-endorsed Evans received 23 percent in May compared to 43 percent for emergency room physician Rich McCormick.
Both candidates claim they are the most conservative.
Redistricting shifted the 6th District to heavily Republican.
McCormick has accused Evans of changing his stance on multiple issues and has reminded voters about Evans' past criticism of Trump.
Evans has said that McCormick is a moderate who will compromise with Democrats if he is elected.
Evans, who is the former head of the Georgia Ethics Commission, told reporters that he has the "most momentum" of anyone entering the primary, which featured nine candidates.
A former military medic, McCormick served in the U.S. Marines and U.S. Navy before returning to Georgia to work for hospitals.
When asked why he did not vote in the 2016 presidential election, McCormick said he was deployed to Afghanistan and his absentee ballot did not get processed.
In November, Evans or McCormick will clash with Bob Christian, a former U.S. Army soldier and restaurant manager who won the Democratic primary.
7th Congressional District
In Georgia's newly drawn 7th Congressional District, Michael Corbin will face Mark Gonsalves in a runoff to secure the Republican party nomination.
The winner will face Democrat Lucy McBath in the general election on Nov. 8.
In the Republican primary on May 24, Corbin led a five-candidate field with 41.2 percent of the vote. Gonsalves finished second at 27.3 percent.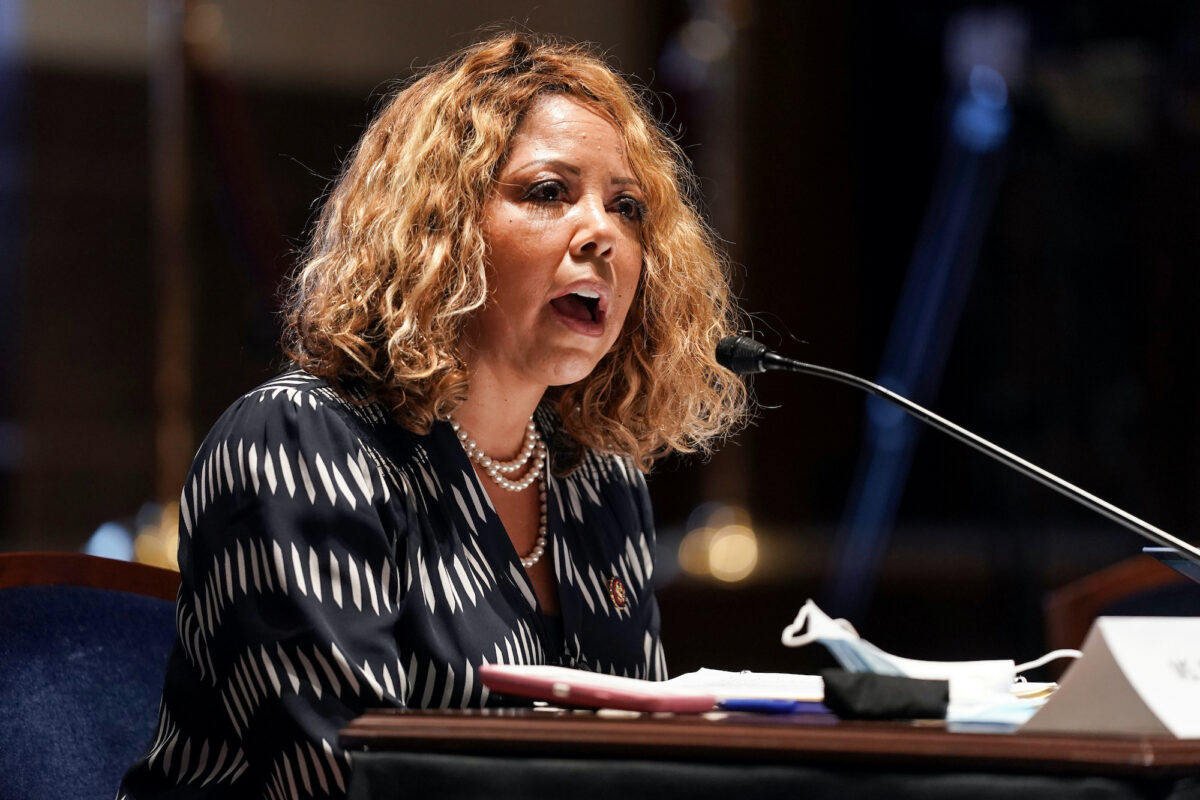 McBath defeated Carolyn Bordeaux in the Democratic party primary on May 24. They generated national attention in recent elections.
In 2018, McBath unseated Republican incumbent Karen Handel in Georgia's 6th Congressional District. Bordeaux defeated Republican incumbent Rich McCormick in the 7th Congressional District in 2020.
The new 7th District is composed of northeast metropolitan Atlanta, including Gwinnett and Fulton counties.
When Georgia's GOP-controlled legislature transformed the 6th District into a more conservative area after redrawing the maps, McBath decided not to seek reelection there and run against incumbent Bordeaux instead.
McBath is endorsed by Sen. Elizabeth Warren (D-Mass.) and U.S. Rep. James Clyburn (D-S.C.).
The 7th Congressional District is one of two seats in Georgia named by Ballotpedia as a battleground race. The general election is a toss-up, according to the Cook Political Report.
Republicans have controlled the 7th Congressional District since 1994.