LAS VEGAS—Nevada's anticipated 2022 midterm red wave was forecast to come in a fresco of fiery pink with women favored in the June 14 Republican primaries in three of the state's four congressional seats now occupied by incumbent Democrats.
But with results slowly trickling in, as Election Night slipped into the morning after, only one of the three women was certain to be on November's general election ballot.
Las Vegas real estate attorney April Becker was declared the winner in her five-candidate Congressional District 3 (CD 3) primary battle not long after polls closed at 7 p.m. local time, before the sun set behind Mount Charleston.
As daybreak set upon Sunrise Mountain, however, Latinos For Trump Chair Carolina Serrano had fallen in her CD 1 race while State Assembly Member Anne Black was trailing in her too-close-to-call CD 4 primary.
With an estimated 64 percent of the vote reported, retired U.S. Army Col. Mark Robertson was declared the winner in CD 1 shortly after midnight.
Robertson at that point had garnered 30.2 percent of the tally, outdistancing National Conservatism President David Brog (16.1 percent) and Serrano (15 percent) in the eight-candidate race that saw five contenders draw double-digit percentages.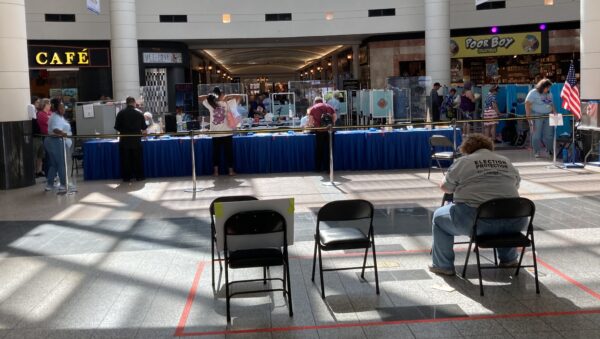 Robertson, a 30-year US Army and Army Reserve veteran, certified financial planner, and adjunct professor in finance, during the campaign touted his military background, including serving in 10 overseas outposts with the Pentagon's Office of the Defense Secretary.
But that's not why people for voted for him, he said.
"I spent 18 months talking with the people of Nevada. I didn't seek endorsements. I spoke with everyday Nevadans," Robertson said. "I think that is what resonated. People want somebody to represent them," a representative who will go to Washington to serve constituents, "not to be someone."
Robertson will face incumbent Rep. Dina Titus (D-Nev.), who easily defeated Socialist Democrat Amy Vilela to secure the party's nod to seek a sixth term.
Titus, whose ads in English and Spanish have dominated the Las Vegas airwaves over the last few weeks, in a statement said she was "humbled" with the overwhelming support she received—84.3 percent of the votes with an estimated 70 percent of the vote tallied.
"This is the most crucial election of our lifetimes," Titus said. "From voting rights and reproductive freedom to economic recovery and workers' rights, there is too much at stake to sit on the sidelines."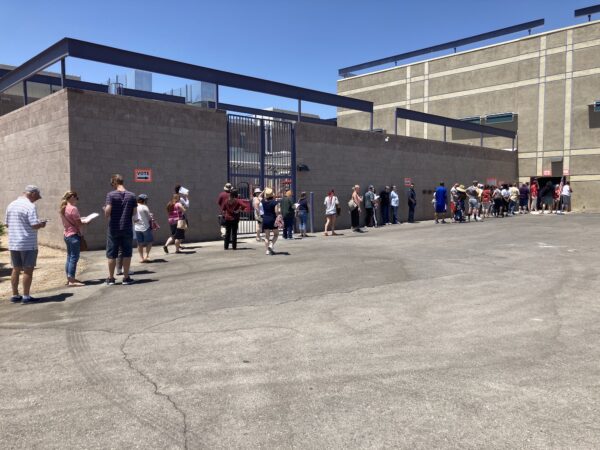 Long the near-exclusive province of Democrats before the state assembly reshuffled the deck in post-2020 Census reapportionment, the former inner Las Vegas district CD 1 now includes suburban areas to the south, including where Robertson lives.
With its reconfigured demographics doubling the district's number of registered Republicans to nearly 110,000, what had been a 2-to-1 Democratic voter bulge in CD 1 has been scaled back to single-percentage points.
As a result, the Cook Political Report, which didn't classify CD 1 as competitive two years ago—only one Republican has been elected by district voters in the 40 years since Nevada gained a second congressional seat—ranked it "competitive but leaning Democrat" this year before revising it to "toss-up" in May.
Robertson said his immediate mission in Congress would be "to get inflation under control. That is the number one issue I heard over and over again at kitchen tables. We've got to reverse the devastation."
It won't be easy under the Biden administration, he said, but there's little choice other than to get it done.
"We can do it," Robertson said. "We've been here before. We can do it."
In CD 4, Las Vegas insurance firm owner and retired U.S. Air Force Major Sam Peters led the favored Black by nearly 7 percent on Wednesday morning in a race too close to call.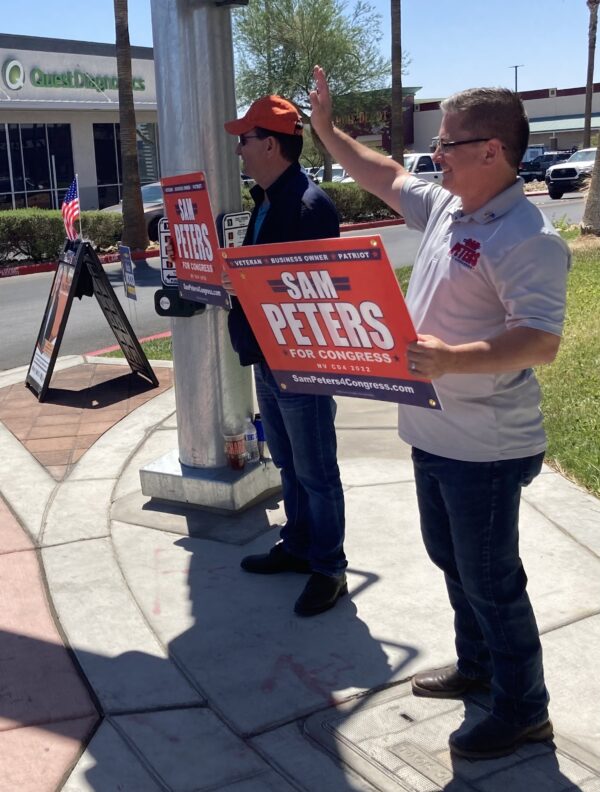 Like Serrano and Brog, Black was on the National Republican Congressional Committee's "On the Radar" list of "Young Guns." She touted her ranking as Nevada's most conservative lawmaker based on Nevada Policy Research Institute ratings. She was elected to the State Assembly in 2020 and has been censured for refusing to wear a face mask.
In one of the more animated primary battles that saw both candidates accuse each other of engaging in personal attacks, Peters said from his home that he wasn't declaring victory until the final results are known.
"We've got some early success and I'm very happy with our position. I'm enjoying the numbers were looking at," he said.
Peters was endorsed by the Nevada Republican Party, the Nevada Firearms Coalition PAC, and Public Safety Alliance of Nevada, a coalition of law enforcement groups. He said Black's January entry into the race was too late to make up the ground he'd campaigned on for almost a full year.
His service as a veteran also caught voters' attention,  he said. "We're at a time when Congress has the fewest number of veterans serving in the House in history," he said.
Peters said the first thing he'd do in Congress is "remind my colleagues that the United States Constitution still exists."
The federal government has expanded in regulatory overreach that must be stymied, Peters said, adding "a lot of those things belong with the states" that Congress is encroaching into.
The winner will take on two-term Rep. Steven Horsford (D-Nev.) in the sprawling seven-county district that the Democratic-controlled state legislature tweaked to bolster the incumbent's reelection odds.
But with ambient anger over inflation and dissatisfaction with the Biden administration mounting, those moves may backfire on Democrats in November. As with CDs 1 and 3, Cook Political Reports rates what had been "likely" Democratic win in CD 4 now as a "toss-up."
Horsford did not face a primary challenger and has more than $2 million in his campaign war chest in a district where Democrats hold a 10.5 percent advantage in registered voters. He has endangered his reelection after admitting to a longtime affair with a former intern of the late Nevada Sen. Harry Reid.
At her election watch in Summerlin, Becker said before CD 3 GOP primary results were posted that she was "feeling great" about her chances.
That feeling proved prescient because she was declared the winner with less than 30 percent of the vote tallied by virtue of her 67-percent lead over her four Republican primary opponents. That margin shrinked to 54 percent by Wednesday morning.
Becker, who lost a 2020 state Senate election by 1 percentage point, said once in office, "The first thing is to set up a constituent office so people can come by and have their voices heard."
Those constituents, she added, will be "the people who hired me and fired Susie Lee."
Becker will take on Rep. Lee (D-LNev.) who secured more than 89 percent of the CD 3 Democratic primary vote and has nearly $2.4 million in her campaign coffers in seeking a third term in November's general election.
"I am honored that southern Nevadans have placed their trust in me once more to continue to fight for our families, defend our democracy, and protect fundamental rights," Lee said in a statement. "As our state endured challenges of the pandemic, I stood up to get our struggling families the direct relief they needed, keep the doors of our small businesses open, save tens of thousands of jobs, and keep economy and our families afloat."
CD 3 has been steadily shifting red since 2020. What had been a "likely" or "leaning" Democratic district is now rated as a "toss-up" by the Cook Political Report and by Larry J. Sabato's Crystal Ball, among others.
Becker said the GOP primary battles were heavily contested and there are frays within the party. But that's all over now, she said, and the goal is for Republicans to take the House.
"We have to all work together and come together after the primaries," she said, noting Republicans have momentum in drawing new voters to the party "and I've talked to a lot of Democrats who are coming over, too."
The other certain victor in Nevada's four GOP Congressional district primaries was CD 2 Rep. Mark Amodei (R-Nev.), Nevada's lone Congressional Republican.
With an estimated 77 percent of the vote tallied, Amodei had a  21 percentage point lead over Douglas County Commissioner and perennial congressional candidate Danny Tarkanian in their primary election.
The five-term incumbent will be opposed in November by CD 2 Democratic primary winner  E. Mercedes Krause, who captured nearly half the ballots cast in a seven-candidate field. CD 2 voters haven't elected a Democrat since the district was established 40 years ago.