Technology stocks and indexes are suffering the biggest market crash since the dot-com bubble as the selloff intensifies in the global financial markets.
During the 11-year bull market, which began in March 2009 and ended at the start of the pandemic-induced selloff in 2020, technology securities led the way. In an era of historically low interest rates and easy money policies, investors were ebullient toward tech, buying everything from social media to cloud computing to video conferencing applications. Once the Federal Reserve intervened in the early days of the COVID-19 public health crisis, slashing rates to nearly zero and injecting the economy with trillions of dollars in liquidity, traders propped up the tech sector to record highs.
With many tech stocks overvalued, it was only a matter of time before a correction occurred.
According to the Morningstar price/fair value estimate readings, most tech stocks were already entrenched in overvalued territory for much of 2021.
Since tech stocks are vulnerable to a rising-rate environment, the selloff during the Fed's tightening cycle was almost certain.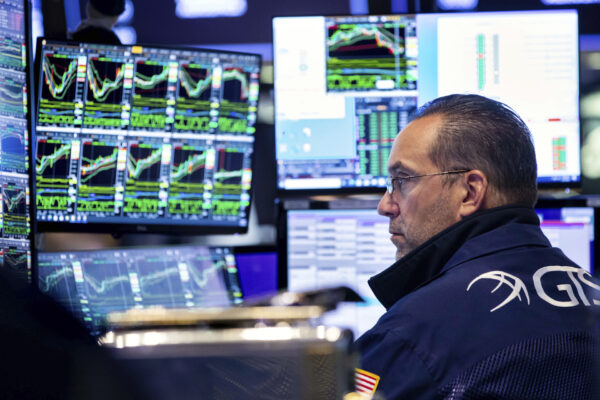 Change in market conditions accelerated once inflation started turning more than transitory, and the U.S. central bank launched its campaign to tighten monetary policy through rate hikes and balance sheet reductions. Now that the prospects of a more hawkish Fed escalate due to stubbornly high inflation, financial markets are shunning growth equities.
The tech-heavy Nasdaq Composite Index is stuck in a bear market, tumbling more than 31 percent year-to-date. The index's top holdings include Apple (-26 percent), Microsoft (-27 percent), Amazon (-39 percent), Alphabet (-26 percent), and Meta (-51 percent).
By comparison, the Nasdaq cratered 77 percent after topping 5,000 in March 2000. It did not reach the bottom until October 2002. During the financial crisis more than a decade ago, the Nasdaq also plunged about 48 percent following its peak of 2,859 in October 2007, sliding to 1,377 in February 2009.
So far this year, the S&P 500 Information Technology index has slumped nearly 29 percent. For the broader S&P 500 index, which is down about 21 percent, tech stocks represent close to an all-time high of 27 percent.
The top tech exchange-traded funds (ETFs) have also dropped. In 2022, the Vanguard Information Technology Index Fund ETF is down 30 percent, while the ARK Innovation ETF is in 61 percent in the red. Tech thematic ETFs have also plummeted. The First Trust Cloud Computing ETF has declined nearly 40 percent, the Fidelity MSCI Information Technology Index ETF has tumbled 30 percent, and the iShares Semiconductor ETF has slid 31 percent.
"If you think about boom/bust cycles for tech, what we've seen right now in some of the 'growthier pockets' of tech is certainly akin to what we saw back in 2000 in that Nasdaq composite correction," Peter Callahan, technology analyst at Goldman Sachs, told host Allison Nathan on a recent Exchanges podcast.
Investors have been ditching their financial and technology funds as they hunt for value stocks. The latest Morningstar Direct data show that tech fund outflows totaled $3.8 billion in May. Most growth funds did suffer enormous outflows, while investors sought out dividend-focused funds. The S&P 500 value indices have outperformed their tech-focused counterparts.
With many tech firms here to stay, be it Microsoft or Amazon, is it time to buy the dip?
Joseph Hogue, an investment analyst and creator of the YouTube channel Let's Talk Money, says it could be "a great time" to invest in some of these technology stocks for the long term.
"That doesn't mean push all your money into stocks right away because I do think we are heading for a recession and lower prices," he told The Epoch Times, but establishing a formal strategy for when you will invest some of your funds could be a sensible move.
Tech stocks have taken a beating this year, according to Hogue, but they have not yet reached a bottom.
"We're not going to see tech stocks or growth stocks or really the broader market start to bottom until we know that the Fed is going to pause or slow down on interest rate hikes."
At the same time, the good companies will eventually take over the bad companies, rebalancing the state of the tech industry, says Steve Sosnick, chief strategist at Interactive Brokers.
"The bad companies are getting thrown by the wayside. Good companies are getting punished, too, but they're getting punished because they had huge valuations attached to them that were not maintainable," he told the investment research firm. "You have to take the longer-term view. The good companies are still good companies."
Indeed, it might not be all doom and gloom for the tech sector heading into 2023, Callahan added.
"Brighter days are ahead for the tech sector," Callahan averred. "When you think about 2023 and beyond, those mega themes like cloud and e-commerce, digital payments, those are all very intact."
The Nasdaq was choppy during the Tuesday trading session, hovering at around 10,815.
Emel Akan contributed to this report.