Political power players are eyeing Nevada's primary election Tuesday, with races on the ballot on June 14 considered among the most important in the 2022 midterm elections.
Republicans are vying for a chance to challenge incumbent Sen. Catherine Cortez Masto (D-Nev.) in November as part of a broader plan to recapture the U.S. Senate.
Cortez Masto, now finishing her first term in the U.S. Senate, faces three Democrat challengers Tuesday in Nevada's primary. Analysts expect her to sail through that skirmish before facing one of eight Republicans battling it out in the GOP primary on June 14.
Polls have left a foggy picture of whether Cortez Masto will prevail. Analyses by Inside Elections and Sabato's Crystal Ball categorize the midterm contest as a toss-up.
Cortez Masto's Republican challengers face a nail-biter election on Tuesday.
Polling suggests wounded-veteran-turned-businessman Sam Brown and former state attorney general Adam Laxalt lead the crowded field.
The Nevada GOP endorsed Brown, a retired captain from the U.S. Army, who was nearly burned to death by an explosion that set him ablaze during his service in Afghanistan. He has since established a business to help veterans obtain medical treatment.
Laxalt, the state's former attorney general and a veteran who served in Iraq, received an endorsement from former President Donald Trump after working in a leadership position on Trump's reelection campaign. Florida Gov. Ron DeSantis, Sens. Ted Cruz (R-Texas), Josh Hawley (R-Mo.), Tom Cotton (R-Ark.), and Senate Minority Leader Mitch McConnell (R-Ky.) also endorsed Laxalt.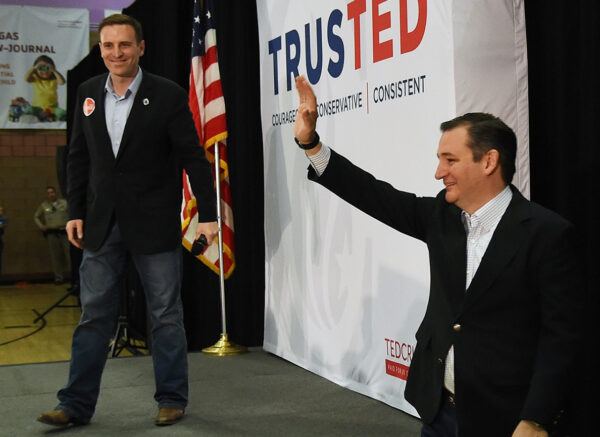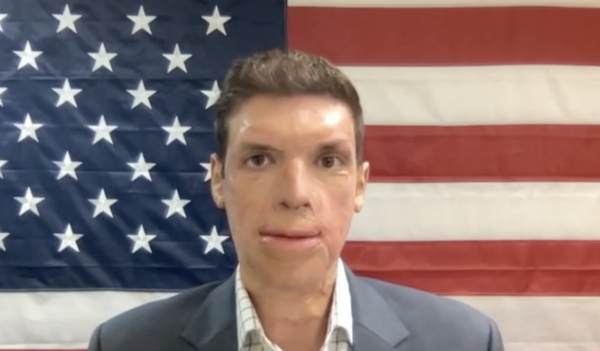 In Nevada primaries, the candidate with the most votes moves on to the general election
A RealClearPolitics average of three polls conducted between April 25 and May 12 suggests Laxalt may be ahead of Brown by 21.3 percent. Other polling not considered in that average indicates Brown may be closing that gap.
A November match-up between Laxalt, who ran for governor in 2018, and Cortez Masto is considered a toss-up by RealClearPolitics analysts. Three polls considered in that ranking put Cortez on top. Two said Laxalt would win.
Two other polls focused on a theoretical match-up between Brown and Cortez Masto. One predicted the incumbent would win. In the other, voters chose Brown, the political newcomer.
On May 11, Brown and Laxalt squared off during a debate on Nevada Newsmakers.
During that appearance, both bemoaned Cortez Masto's support of "open-border policies" and said they'd be against offering amnesty to immigrants entering the country illegally.
They agreed that Big Tech companies need to be reined in if they continue censoring speech and tweaking policies in apparent attempts to affect election outcomes.
Both felt the Senate filibuster rule should be protected, because it allows the minority party to maintain a meaningful voice.
Both expressed deeply personal reasons for pro-life convictions. Laxalt said he'd been born to an unwed mother in her 20s and was grateful to have been given a chance to live.
Brown reflected on his wartime injury that caused him to, at times, lose "the will to live." That struggle left him feeling blessed, with a new appreciation for life.
Interceding in the conflict in Ukraine demands caution, both said. But both expressed it was right to send equipment to help Ukrainians defend themselves.
Both hammered Cortez Masto for consistently going along with the policies of President Joe Biden and Democrat colleagues. The Epoch Times reached out to the campaign of Cortez Masto for comment but did not receive a response.
When questioned on their differences, Laxalt said he was already "proven in office. Voters have been able to see what they get."
Brown argued that Laxalt "failed us" after the 2020 election for not doing more to challenge concerns about voter fraud. And he said Laxalt wasn't a strong protector of the Second Amendment.
Laxalt insisted the job of challenging election integrity in 2020 fell to Nevada's secretary of state and the Republican National Convention.
"I wasn't in charge," Laxalt retorted. "This was an RNC national effort, and they got caught flat-footed."
Brown said a leader should accept responsibility and not blame others.
"Nevadans deserve better," Brown said.
Tensions rose again when both were asked if they'd vote for McConnell as minority or majority leader of the Senate. McConnell has lost favor with Republicans lately for his stance on various issues, especially for describing Jan. 6 activity at the Capitol as a "violent insurrection."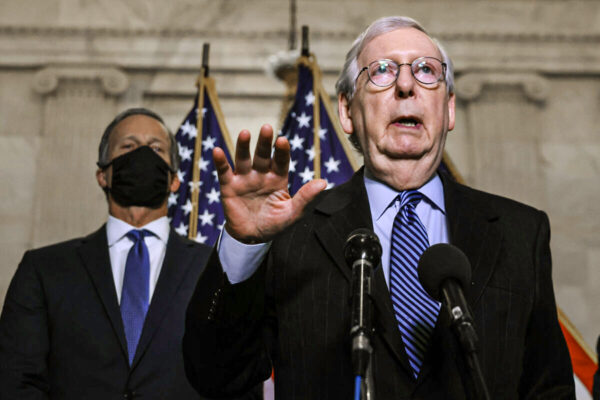 When pressed to answer definitively, Laxalt repeatedly promised he "would vote for the most conservative person who runs for" leadership of the Senate.
Brown said he, too, would vote for "whoever's going to be a conservative champion, whoever is going to push for our country to not continue to slide to the left." But, he added, "I have a feeling that Mr. Laxalt owes Mitch McConnell his vote, because he has even endorsed his campaign. He leaves that out when he talks about his other endorsements."
Laxalt shot back, "This is going to be the biggest Senate race in the history of our state. [Senate Majority Leader] Chuck Schumer has put $45 million dollars in. They've already been attacking me for months and months and months. And the reality is I'm honored to have President Trump. I'm the only person in America to have Governor Ron DeSantis, who's one of our absolute conservative stalwarts," as well as the others.
Laxalt's father was the late Sen. Pete Domenici (R-N.M.), and his grandfather was the late Sen. Paul Laxalt (R-Nev.).
Cortez Masto's approval rating was above water in a recent survey by The University of Nevada. Thirty-nine percent of respondents approved of how she handled her job, compared to 32 percent who disapproved.
In the same poll, only 26 percent said they approve or strongly approve of Biden, spelling trouble for Cortez Masto, who has followed Biden's leadership.
The poll showed that when averaged together, the top five most important issues to Nevadans were inflation, health care, crime, water conservation, and free speech.
By May 25, Cortez Masto had raised $25.3 million and had almost $9.1 million cash on hand, according to a report by the nonprofit OpenSecrets, which tracks money in politics.
Laxalt had raised more than $5.8 million, with almost $2.1 million on hand. Brown had raised more than $3.93 million and had more than $362,000 in his account.
Forecasters say the November race is competitive, with some giving Cortez Masto a slight edge.
Along with Nevada's Senate race, the races in Arizona and Georgia, where the incumbents are Democrats, are also considered competitive.
Some forecasters say the Senate contests in Pennsylvania, Wisconsin, and New Hampshire tilt enough to make an election-night surprise possible.
The GOP is "very likely to gain enough seats in November to take control of the House of Representatives," wrote political scientist and Emory University professor Alan Abramowitz in a June 1 analysis for Sabato's Crystal Ball.
"In the case of the Senate, however, the results indicated that the outcome was likelier to be close to a standoff," he wrote. "That was mainly because Republicans currently hold 21 of the 35 seats that are up for election in 2022."