WASHINGTON, D.C.—Cold rain has kept Supreme Court protest numbers on both sides low going into the first weekend after someone leaked a draft court opinion against Roe v. Wade.
The protest has fired many pro-abortion groups to a feverish intensity as they face the possibility that states will once again decide on abortion's legality.
"You have no idea who they will come for next," former U.S secretary of state Hillary Clinton said.
Since May 3, pro-abortion protesters have appeared every day outside the Supreme Court, shouting for hours. Most of the time, they vastly outnumbered pro-life protesters.
Pro-abortion protesters are said to have screamed at and punched pro-life supporters.
At 11 a.m. on May 6, the rain kept the street outside the Supreme Court relatively quiet. Although protests have generally been smaller in the morning, the latest protests have been the smallest by far.
The first weekend after the leaked Supreme Court draft opinion will be wet and cold and the rival turnout numbers are unpredictable, police officers told The Epoch Times on May 6.
Throughout the week, hundreds attended night rallies when people got off work.
The issue has received considerable attention nationwide.
Conservative Florida Gov. Ron DeSantis (R) called the leak "judicial insurrection."
President Joe Biden's White House indicated that defending Roe v. Wade took priority over the unprecedented leak.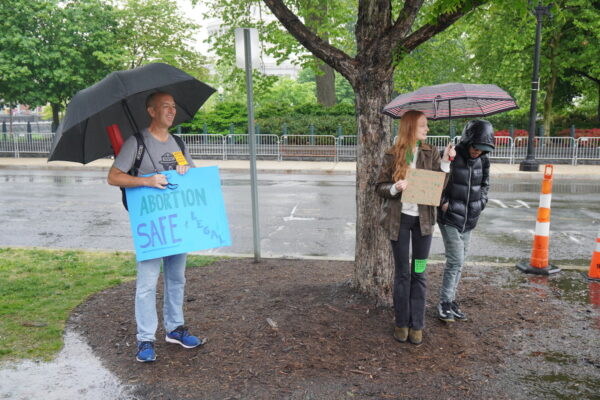 "There's no question that [the leak] raises eyebrows for many in the country, including those of us in the White House," said press secretary Jen Psaki.
"But what our focus is on right now beyond the leak is how we're going to protect a woman's right to make choices about her health care with her doctor."
On May 6, fewer than a dozen protesters gathered. It may have been the first time pro-life supporters outnumbered their opponents.
Three pro-abortion protesters waited with umbrellas under a tree near the court.
"I feel responsible," said visiting Santa Cruz, California, resident Paul Mietz Egli. "I feel like if I'm an American citizen, and I feel so strongly about an issue, that I have to speak up."
New York resident Josephine Ptacek passed out pro-abortion stickers. One read, "Forced motherhood is female enslavement." She said she had attended several protests organized by the activist group Rise Up for Abortion.
"You can still fight for it when you have the right, because I think it'll be a lot harder to fight for it once it's taken away from us," she said.
Ptacek said she plans to visit Nebraska on May 7 to organize protests there.
On the pro-life side, six people from Rehumanize International appeared, including the group's executive director Herb Geraghty. They carried umbrellas.
They chanted and sang, using megaphones to boost the volume.
"Help us tell the nation we want a pro-life revolution," they sang.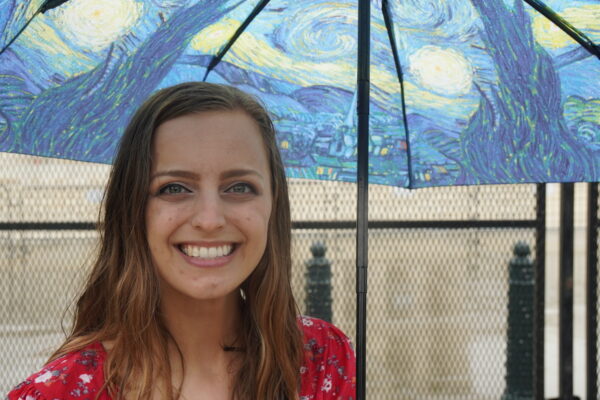 Pro-life supporter Cassidy Shooltz said she had come from Grand Rapids, Michigan, for the protest.
"It's really worthwhile, because we're fighting for children who have no voice of their own," she said.
Earlier this week, pro-abortion protesters pushed her and other pro-lifers, she said.
"We got shoved into a bush and forced out of the protests. Today is much more calm because of the rain."
The Rehumanize International members had paper signs that didn't handle the rain well.
After several minutes of singing and shouting, they walked away.