A lawyer who challenged misreported election results and a community college professor were tapped by the Michigan Republican Party over the weekend to challenge Attorney General Dana Nessel and Secretary of State Jocelyn Benson.
Republicans picked two candidates—lawyer Matthew DePerno for attorney general and professor Kristina Karamo for secretary of state—they hope can capitalize on flagging enthusiasm for Democrats in the 2022 midterm elections.
DePerno brought a lawsuit against botched election night counts in Antrim County, which officials there and Benson have said stemmed from human error. The suit was tossed in 2021.
Karamo, a professor at Wayne County Community College, launched her campaign after she said she witnessed election law violations at the TCF Center in Detroit while serving as a poll challenger there.
"I just decided I'm gonna run for Secretary of State because I'm not gonna sit here and just expect other people to solve issues when I know I'm competent enough to solve them myself," Karamo told The Epoch Times previously.
Both candidates were boosted by endorsements from former President Donald Trump.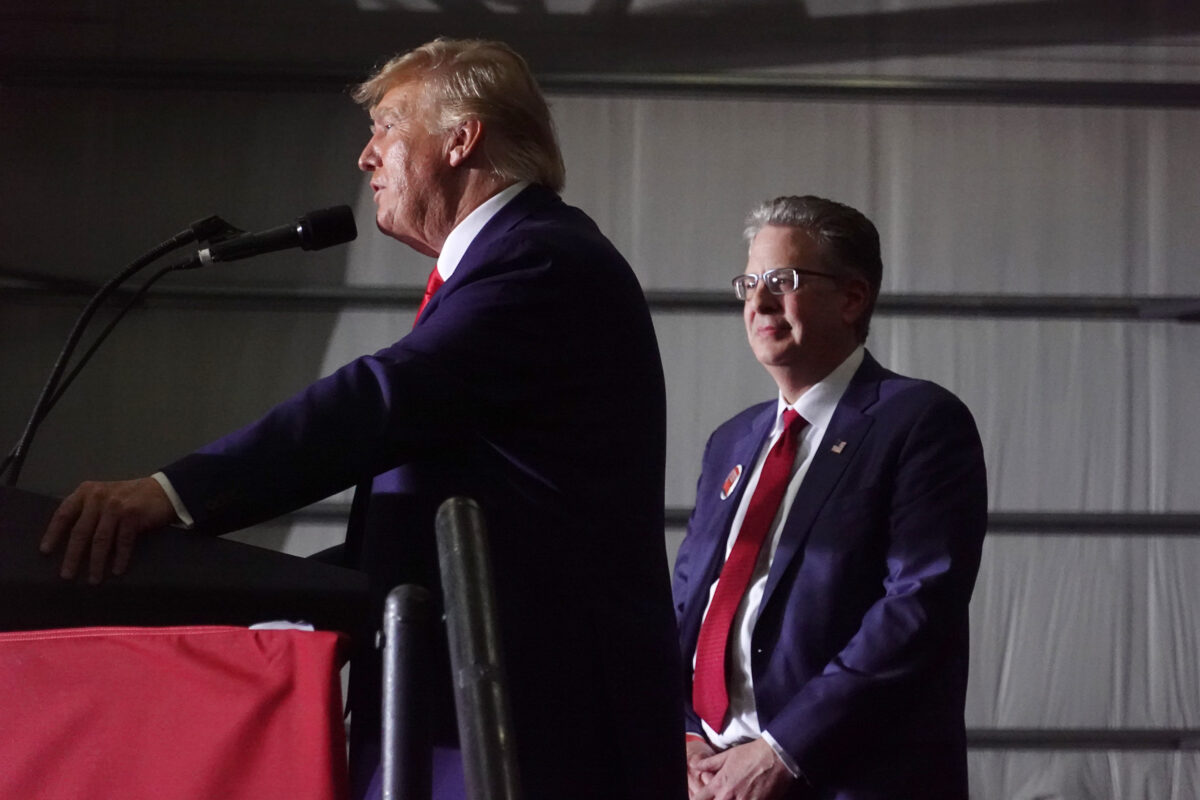 Bernadette Smith, one of the party's vice chairs, said during the convention that DePerno "is the only candidate who will fight for election integrity" and was "in the field working when no one else was."
Karamo beat state Rep. Beau LaFave and Chesterfield Township Clerk Cindy Berry.
"We're going to make sure that our election result is something that everyone can be confident in," Karamo said.
Ron Weiser, the Michigan GOP chair, said that Republicans rallied around candidates earlier than they normally do to give the party "an advantage to expose Dana Nessel and Jocelyn Benson for the terrible politicians that they are," adding, "We're poised to win, and we will this fall."
Nominees for Michigan's statewide races are chosen at conventions except in gubernatorial and U.S. Senate primaries.
Both DePerno and Karamo have cast doubt on the 2020 election results, as has Trump, pointing to irregularities at polling stations. Trump has said DePerno "has been on the front lines pursuing fair and accurate elections" while Karamo is strong on crime, including the "massive crime of election fraud."
President Joe Biden won Michigan by about 1.5 million votes, according to certified results. Trump won Michigan in 2016 by about 10,500 votes.
Lavora Barnes, chair of the Michigan Democratic Party, said Republicans "should be ashamed of the candidates they have endorsed for the November election." Barnes said the endorsements paved the way for Nessel and Benson to win re-election.
The Associated Press contributed to this report.