Ohio GOP gubernatorial candidate Joe Blystone will face a full-panel hearing to further investigate and decide upon two campaign finance complaints on May 2, which falls one day before the primary election.
This was determined by the Ohio Election Commission (OEC) during a Probable Cause Panel meeting on April 21.
The three-person panel voted unanimously to book the full-panel hearing to expedite the investigation of claims that Blystone used campaign funds for personal purposes and did not properly report campaign contributions and expenses.
"This isn't a school board race where a candidate raised and misreported $500. This is a race for the top executive office in the state of Ohio involving half a million dollars, and it's amateur hour," said Curt Hartman, an attorney who represents Ohio voter Mary Capella, the person who filed the complaints.
"It appears Blystone's primary defense is 'we're new, we're not sophisticated and we're running a unique campaign.'"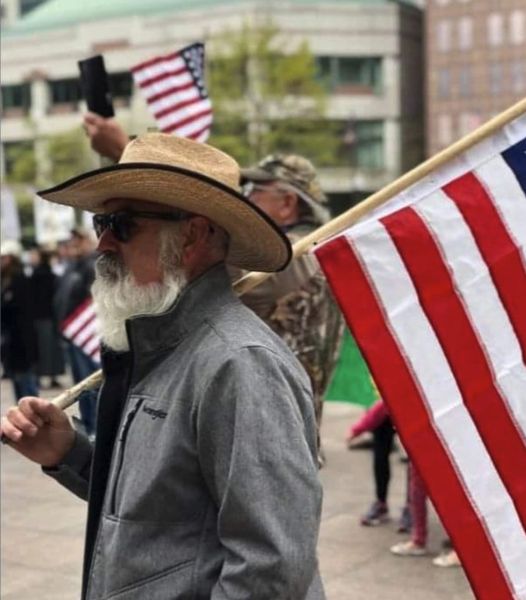 In early April, the OEC declined Capella's request to promptly explore the two complaints, prompting the Butler County resident to proceed with a writ of mandamus from the Supreme Court of Ohio against OEC executive director and staff attorney Philip Richter and OEC commissioners for denying the request.
A writ of mandamus is a written directive from a higher court to a lower court, or a government office, official, or corporation, requiring that a specific order be implemented.
Blystone, a Canal Winchester farmer and restaurant owner, is running against Ohio Gov. Mike DeWine, former Congressman Jim Renacci, and former state representative Ron Hood in the GOP gubernatorial primary.
At the full-panel hearing on May 2, commissioners could take no action, fine Blystone's campaign, or refer allegations to the Franklin County prosecutor.
According to a March 4 letter from Ohio Secretary of State Frank LaRose's director of campaign finance Brian Katz and sent to Friends of Joe Blystone, more than $101,000 in donations that exceed the state's limit of $100 for each contribution made in cash were flagged.
The 20-page examination of Blystone's campaign finance reports by LaRose's office found that $133,038 in non-individual and in-kind business contributions, in addition to funds donated by locations or event descriptions rather than an individual or entity, require further clarification by including the contributor's name.
The donations may need to be returned if they were provided by a corporation.
Extensive Discussions
The report also showed $99,051 in cash contributions that must be returned to donors; $40,299 in campaign expenses that are missing appropriate documentation; $17,111 in campaign expenditures that are not tied to campaign-supplied bank statements; $8,956 in donations that were not identified as cash, check, or credit card contributions and require further explanation; $2,848 in "vague" expenses that need clarification; and $1,100 in corporate donations that must be returned.
On March 23, the Blystone campaign issued a statement that said, "lawyers for the campaign engaged in extensive discussions with the office of the Ohio secretary of state.
"The conversation went extremely well. At the end of the discussion, they both agreed on a clear framework, creating a specific manner and timeframe for ensuring full compliance in the campaign finance report."
Likely, the campaign will voluntarily return a small number of donations that total "nowhere near $100,000" according to the statement.
The Blystone campaign said it would issue a press release on April 15 detailing a comprehensive report that will be available to the public and "identify whether any of the secretary's concerns are not valid or misconstrued; identify and correct any mistakes, and provide full detail of any corrective measures that may be necessary."
"The campaign and the secretary of state's office mutually agreed to this arrangement and the campaign looks forward to engaging in a respectful, orderly process—free of the stain of internet gossip, political posturing, and shoddy reporting," the statement added.
To date, the Blystone campaign has not provided the press release.
Rob Nichols, who is LaRose's spokesman, said that there was a conversation between representatives from the secretary of state's office and Blystone's campaign on April 15. LaRose's office has not announced the results from that meeting.
After the April 21 Probable Cause Panel meeting, Friends of Joe Blystone released a statement that said, "We had one day and a half to prepare while the complainant had four months to prepare" and "We brought two witnesses to testify we did nothing wrong, had a good-faith basis for, or corrected almost all of the items in the allegations mentioned in the complaint. The commission refused to allow our witnesses to be heard."
'Seems Like a Witch Hunt'
The statement also explained that the Blystone campaign sent "hundreds of pages of documents" at 11 p.m. on April 20, "one day after we received notice of the hearing.
"The documents show that several items in the complaint are false. The documents included a highly detailed report issued on April 15, 2022, and addressed to the secretary of state.
"The commission could not have reviewed this many pages by 9 a.m. thus the commission refused to take the time to review our evidence before making their decision.
"Since attorney argument was all the commission would hear, our attorney presented undeniable proof that almost all the complaint's allegations were baseless, some were explainable, and some related facts were stipulated.
"We hoped to receive consideration on a case-by-case basis. Instead, the commission refused to consider allegations individually and ruled as if they were one allegation."
The commission refused to follow its own rules, and the complaint failed to follow the standards for complaints within the commission, according to the Friends of Joe Blystone statement.
"The complaint included a deficient affidavit and failed to identify who the attorney in the case was. Thus, the commission was required to dismiss the case and failed to do so."
Blystone told The Epoch Times that he will keep campaigning as usual leading to the May 3 primary.
He said that his campaign rented a parking lot that will include a tent, speakers, entertainment, and Blystone merchandise near the entrance of the "Save America" rally at the Delaware County Fairgrounds on April 23.
Former president Donald Trump is scheduled to speak at 7 p.m.
"It doesn't seem like they want the truth. We answered every question from the secretary of state's office with detail," Blystone said about the Probable Cause Panel meeting.
"This seems like a witch hunt. They scheduled a hearing 24 hours before [the] May 3 primary. It is purely political.
"Ultimately, Ohio voters will decide whether they want a corrupt system fighting against the Blystone campaign or an honest and transparent system in Ohio," Blystone added.
"We will continue to show there is a lot of support for our grassroots campaign."