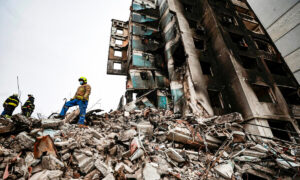 Ukraine is accusing Russia of thousands of war crimes and crimes of aggression, and an international prosecutor calls Ukraine a crime scene.
An ISIS terrorist has been convicted in connection with a brutal hostage scheme. It resulted in the death of Americans. The jury found that he was one of the so-called "Beatles". That's a nickname that was given for their accents and the way they cruelly beat prisoners.
And a never-seen-before letter from a Jan. 6 prisoner. He tells Americans, "Don't do nothing." The man provided security for speakers at the Capitol rally and was arrested later that year.