The U.S. State Department has told all non-essential consular staff that they must leave the Chinese city of Shanghai, as China sticks to its inflexible policies in attempting to squash its COVID-19 outbreaks.
The April 11 announcement is an update from last week when Washington authorized non-emergency workers to depart U.S. Consulate General Shanghai on a voluntary basis, due to what it deemed "arbitrary" COVID-19 measures in the sealed-off megacity.
"The movement from 'authorized' to 'ordered' departure means that we are now mandating that certain employees depart Shanghai rather than making this decision voluntary," a U.S. embassy spokesperson said in a late Monday statement.
"Our change in posture reflects our assessment that it is best for our employees and their families to be reduced in number and our operations to be scaled down as we deal with the changing circumstances on the ground."
According to the release, employees and their family members in Shanghai would leave on commercial flights, although current availability for U.S. citizens who wish to depart Shanghai remains limited.
The Chinese financial center reported more than 23,000 coronavirus cases on April 11, slightly down from a day earlier. Yet prolonged snap lockdowns, mass testing, and centralized quarantine have seen growing frustration among both homed-sealed residents and those quarantined together in hospitals and makeshift facilities.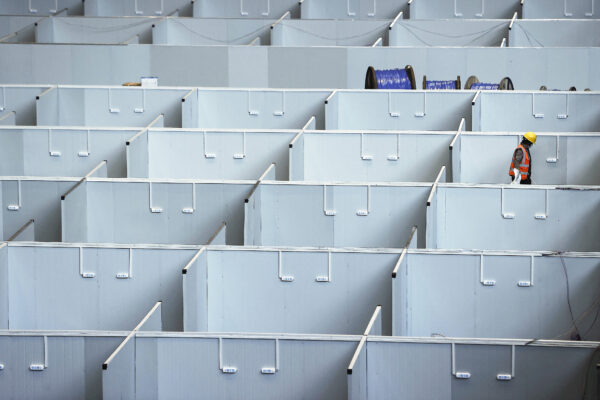 Despite an overstretched medical system and lack of daily supplies for its 25 million people, as locals told The Epoch Times, the city continues to bar residents people from leaving their residential compounds and isolates every positive case in addition to virus-free close contacts. At one stage, young children and babies who tested positive for COVID-10 were being separated from their parents.
The department previously warned American citizens against traveling to China, including Hong Kong, pointing out the risk of parent-child separation.
Videos surfacing online also revealed law enforcers in Shanghai harshly treating residents for breaching COVID-19 restrictions, while media reported that armed police had been deployed to Shanghai to monitor and squash and potential social unrest fueled by public outrage.
The Chinese Communist Party, on the contrary, has defended its "COVID-zero" policy.
Chinese Foreign ministry spokesperson Zhao Lijian on April 9 called the U.S. concerns a "groundless accusation," while Chinese regulators silenced negative voices at home.
Shanghai has moved to partially ease restrictions on neighborhoods where no new infections have been reported over the past two weeks.
The countrywide zero-tolerance strategy gave a green light to authorities' prioritizing social stability above all else.