A Ukrainian-owned coffee shop in the west Cleveland suburb of Lakewood is brewing support in partnership with the Cleveland Maidan Association to provide medical supplies for first responders and its military back in the homeland.
Caffeine Lakewood opened in 2019 and is owned by Anatolii Shtyrka and Roman Knysh. The cafe held its first Ukrainian Charity Event, a fundraiser on April 2 with 100 percent of its proceeds benefitting Ukraine's first responders supporting its military fighting the invasion by Russia.
In recent weeks, the central-town coffee shop at 14701 Detroit Ave, has become a focal point for the younger generation of northeast Ohio's large Ukrainian community to meet, socialize, and discuss the situation in their homeland.
Many of those in attendance on April 2 have family members, including grandparents, living in cities under siege. Some of the guests know their relatives are doing OK, but others are worried because they have lost communication with them.
All are hoping such occurrences are only because of power outages caused by the Russian bombing.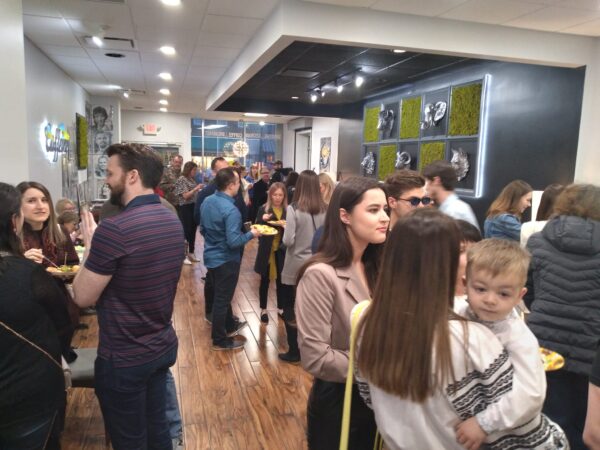 The unprovoked attacks that are pointing to war crimes by Russian President Vladimir Putin's military began on the morning of Feb. 24.
Fighting reached its 40th day on April 4—a day of major significance for Eastern Orthodox and Ukrainian Greek Catholics as it concludes a 40-day mourning period following a loved one's death.
The 40th day afterward is believed to be the day the soul of a deceased loved one departs the earth. People are encouraged to light a candle in memory of their loved ones.
The sold-out $50-a-ticket event at Caffeine Lakewood, which included an art auction, Ukrainian music, a bake sale, wine and food, and monetary donations, was attended by about 100 people and raised around $10,000 according to the organizers.
So far, Maidan, a nonprofit organization that has supported Ukraine since 2014, recently has sent 30 pallets of medical supplies and other materials to Ukraine consisting of bandages, gauze, sterilized surgical equipment (items also have been donated by Cleveland Clinic), and other essential materials.
Maidan is preparing to send out an additional 10 pallets of materials, one of its volunteers told The Epoch Times.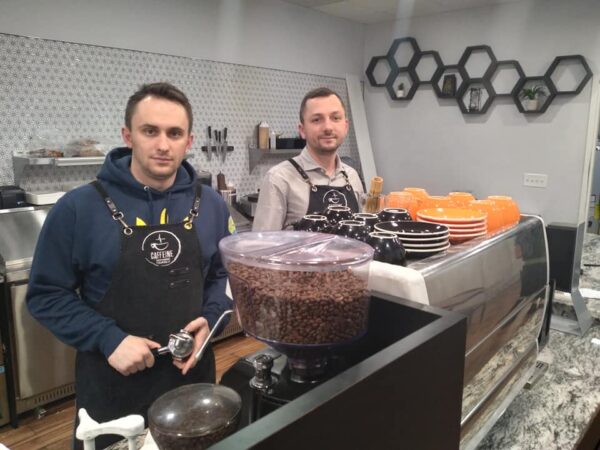 "Anything to help Ukraine," Caffeine Lakewood's Shtyrka, 30, told The Epoch Times. "We didn't know what the turnout for the fundraiser was going to be like, and the large crowd surprised us. We could've sold more tickets. We plan to have another fundraiser in about two weeks. We'll likely have the second in early May, after Easter."
Shtyrka's parents and brother live in Cherkasy where he is from.
"Every morning, we wake up and scroll the news," Shtyrka added. "You never know. Bombs are just flying over there. There's no good areas to be in right now."
Knysh is from Ivono-Frankivsk, Ukraine. His parents, a brother, and sister-in-law with their two children live there.
The town is located in the western part of the country and is getting bombed by Russian missiles about twice a week. Knysh told The Epoch Times that he is in touch with his family every day.
"It doesn't matter what city you're in, There's no safe area over there," Knysh, 31, said. "The Russians have left Kyiv and Chernobyl, and are starting to come toward the western part of the country. They want to get a piece of the Black Sea. The Russians are going to destroy the country and the economy and eventually leave, but they will pay.
"We appreciate everyone who came out to show support," Knysh said. "We plan to do another charity event with a goal to raise more money than we did the first time."
As of April 2, there had been 1,417 Ukrainian civilian deaths reported, including 121 children. Another 2,038 have been wounded, according to statistics.
At the front door of the coffee shop, Alisa Gerasimov was greeting attendees and checking them off the list as they arrived. Gerasimov and her husband, Bogdan, were married at Caffeine Lakewood in July 2019.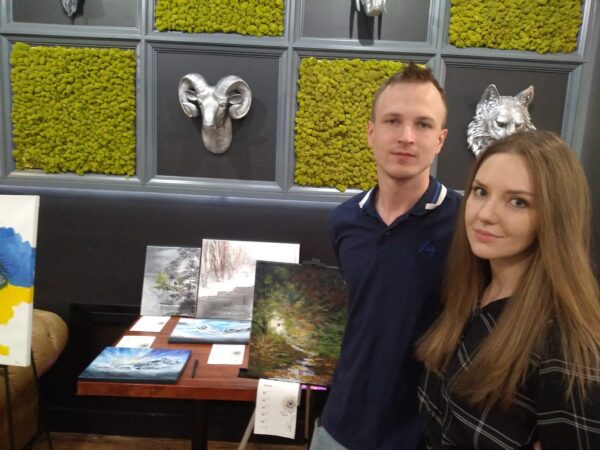 She immigrated to the United States from Odesa—a port city of about 1 million people on the Black Sea—in 2014.
Gerasimov, 25, and her mother Milana recently returned home to Akron in early March from Odesa immediately after the bombings began.
They were there for about two weeks before the bombings began, but were able to leave Ukraine across the Poland border.
A Canadian-based shuttle bus and charter service owned by a Ukrainian was able to rush them and a group of others out of the country.
Because of all the traffic and back-ups, it took them 49 hours to travel about 725 miles because of the back roads they had to take to avoid Russian soldiers and tanks.
Despite the talk about Russia preparing to invade Ukraine, they had planned the trip about a year in advance so Alisa could meet her in-laws, Mikhail and Oksana, for the first time and see her grandparents, Alla and Valiry, who are in their 80s. She had not seen them in eight years.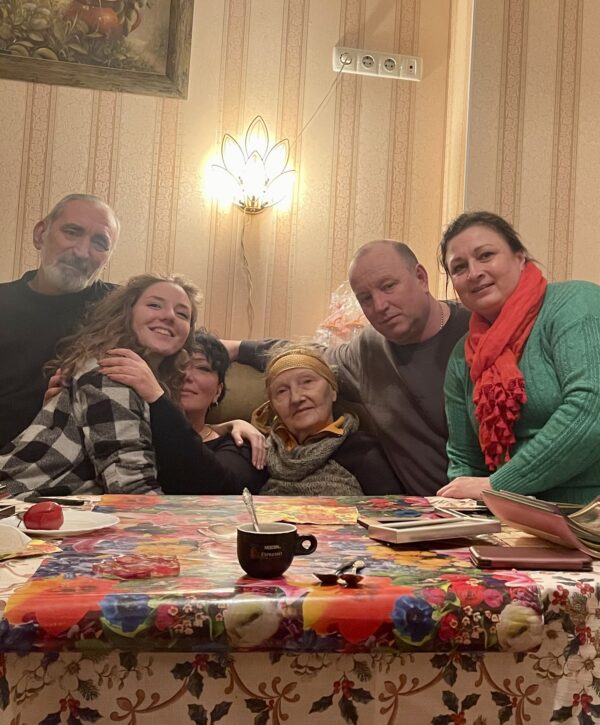 Alisa and her mother awoke at 5 a.m. on Feb. 24 to the sounds of explosions from the bombing in Odessa less than a mile away from the apartment where they were staying with one of her mother's friends.
"We heard four explosions. I looked out of the window of the apartment … and saw smoke from one of the explosions.
"We saw the news that Russia was in Ukraine; no one wanted to believe it was going to happen. They thought it was a scare. The Russians were bombing mostly the military buildings and fuel ports at first."
"We went back to my grandparents," Gerasimov added. "It was scary. It was hard to tell them and my uncle goodbye. They are doing OK, but they are worried."
The next day, she and her mother were standing outside the apartment when gunfire sounded that they initially thought was fireworks going off. They ran back inside.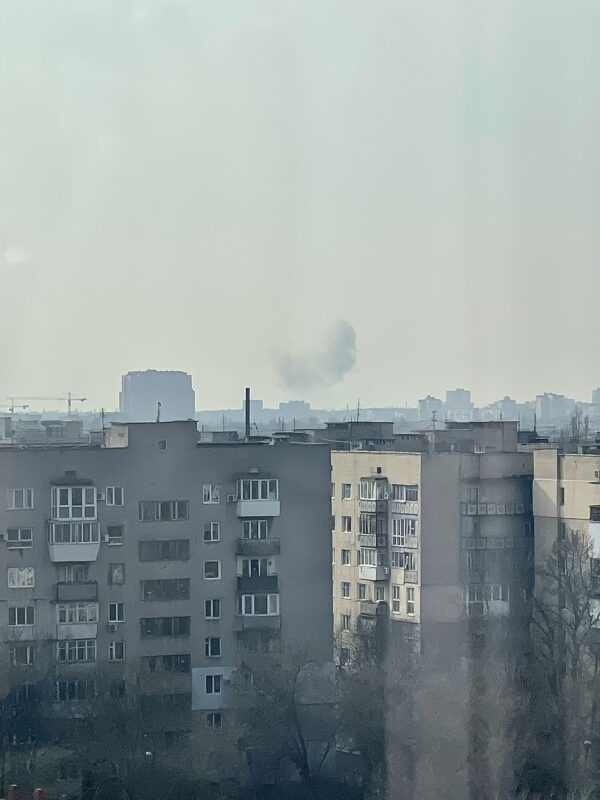 While in Ukraine, Gerasimov also visited her childhood friend, Viktoria, who just started her career as a doctor when the war started.
Gerasimov expressed disappointment that President Joe Biden and his administration and NATO countries aren't doing more for Ukraine.
"A lot of my friends tell me I should be happy that I'm back in the United States, but I wonder, 'why should I be?' I still would go back in a heartbeat to be with my family right now if I could even with the war happening," she said.
"My friends said my grandparents and family should just move here, but they can't just yet. Everyone assumes they can. We're hoping they will be able to soon."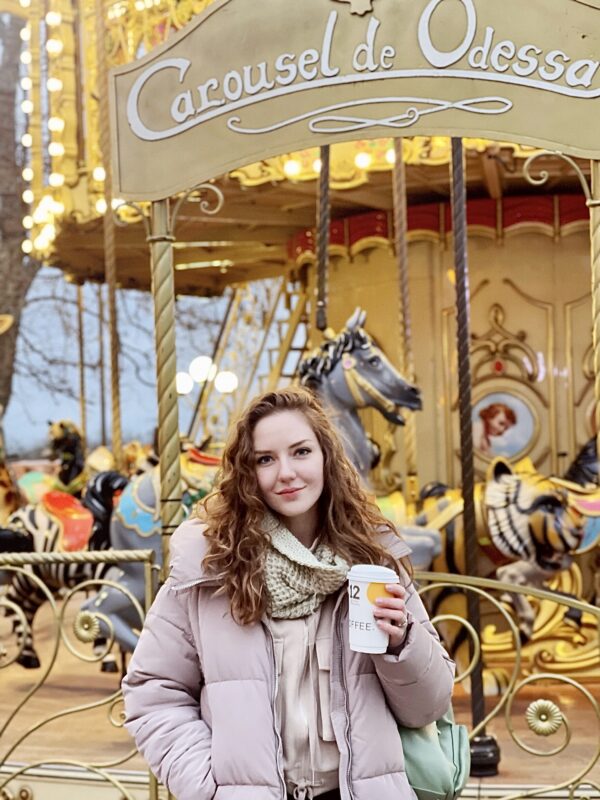 "At least we're doing something here to help the people in Ukraine," Gerasimov added.
Rehina Savchuk, a volunteer for the Cleveland Maidan Association, was born in Lviv and immigrated to the United States in 1999. Her father lives in the Carpathian region of Ukraine and she has lost contact with him because of communication lines being bombed or disrupted.
Savchuk told The Epoch Times that one of her friends in Ukraine lost an eye because of the bombing and another friend is missing.
"The situation there is pretty dire," Savchuk said. "Ukraine needs fighter planes to push Russia back where they belong—in Russia. Ukraine is not going to be able to win a war with land vehicles. Ukraine needs all the help it can get."
If anyone is interested in making donations to help purchase medical supplies for Ukraine's first responders, the nonprofit organization can be reached at (216) 600-1045 or by email: info@clevelandmaidan.org. Maidan's website is www.clevelandmaidan.info.