South Korea and the United States have agreed to reactivate the Extended Deterrence Strategy and Consultation Group to counter "any North Korean provocation," the chief of president-elect Yoon Suk-yeol's delegation said on April 4.
South Korea's policy consultation delegation, led by representative Park Jin, met with Deputy Secretary of State Wendy Sherman in Washington on Monday for talks on the countries' bilateral alliance, Yonhap News Agency (YNA) reported.
"[We] relayed the president-elect's wish for South Korea and the U.S. to further upgrade the South Korea–U.S. alliance into a comprehensive and strategic alliance and formed a consensus [with Washington]," Park told reporters.
Park noted that both sides agreed on the need to maintain deterrence to counter North Korea's provocative acts.
"To this end, the countries agreed on the need to strengthen the extended deterrence between South Korea and the U.S. and the importance of reactivating the Extended Deterrence Strategy and Consultation Group that has failed to play its role over the past few years," he added.
Sherman also reaffirmed Washington's "ironclad" commitment to the defense of South Korea and welcomed joint efforts to achieve the complete denuclearization of the Korean Peninsula, according to the State Department.
Meanwhile, the top nuclear envoys of South Korea and the United States have also agreed to jointly push for a new United Nations Security Council resolution against North Korea.
U.S. special representative for North Korea, Sung Kim, on Monday met with his South Korean counterpart, Noh Kyu-duk, in Washington for talks on Pyongyang's intercontinental ballistic missile launches, YNA reported.
"We also agreed on the importance of a strong U.N. security response to these escalatory actions by [North Korea], and I look forward to working with Ambassador Noh and his team and their colleagues in the U.N. to pursue a new U.N. Security Council resolution," Kim told reporters.
The two envoys reiterated that their countries will remain open to dialogue with North Korea and urged the hermit nation to resume denuclearization talks.
"I once again call on North Korea to refrain from taking any action that may further deteriorate the situation and return to dialogue and diplomacy," Noh said.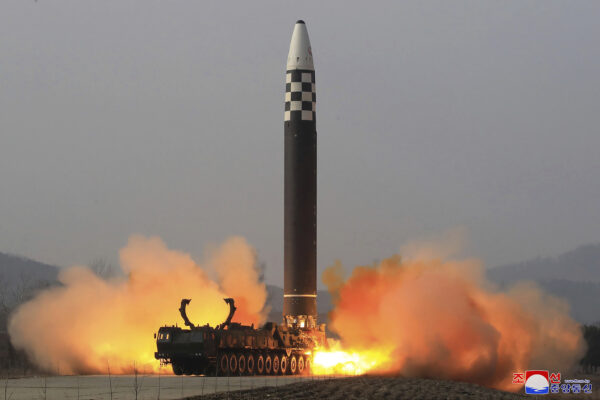 North Korea has conducted more than 10 missile tests since the start of the year, one of which involved a Hwasong-17, which experts dubbed a "monster missile" capable of striking anywhere in the United States and beyond.
U.S. Ambassador to the United Nations Linda Thomas-Greenfield said on March 25 that Washington would propose a resolution to tighten Security Council sanctions against North Korea, though she didn't specify what the new sanctions would be.