The United States moved to suspend Russia from the UN Human Rights Council as the State Department also announced it would collect evidence of war crimes that were allegedly committed in Ukraine.
U.S. Ambassador to the United Nations Linda Thomas-Greenfield said on Monday that "European countries and other partners at the UN, we are going to seek Russia's suspension from the UN Human Rights Council" following accusations that Russian forces massacred Ukrainian civilians in Bucha, located near Kyiv, over the past weekend.
Russian officials have denied that its forces carried out mass executions, alleging that video footage and photos released by Ukrainian officials were staged to create a provocation. Kremlin spokesman Dmitry Peskov said on Monday said that such claims need to be investigated first.
Details provided by Ukrainian officials "should be subject to serious skepticism," Peskov said, according to state-run media. Russian military officials, he further claimed, discovered evidence of video manipulation in connection to the Bucha incient.
"The facts and the timeline likewise speak against the veracity of the claims," Peskov said.
But on Monday, Thomas-Greenfield said that Russia's participation in the UN Human Rights Council was a "farce."
"It hurts the credibility of the Council and the UN writ large. And it is simply wrong. Which is why we believe it is time for the UN General Assembly to suspend them," she said.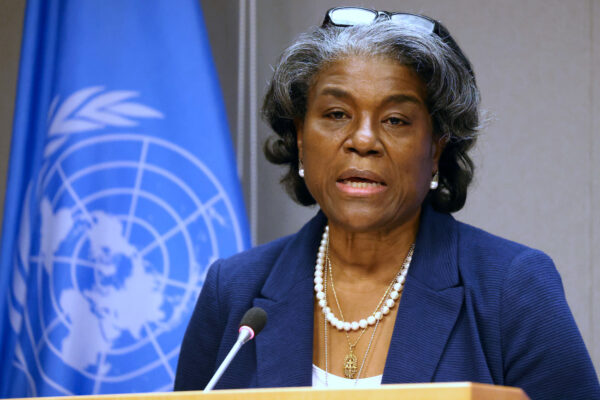 For the United States to get Russia removed from the Council would require two-thirds of the UN's 193-member charter to vote in favor of the move.
China, which is considered one of the most significant human rights abusers by many groups, has a seat on the UN body—as has Saudia Arabia in previous years.
Meanwhile, the State Department confirmed that the agency will investigate the allegations that a massacre was carried out in Bucha.
"Right now, at the request of the Prosecutor General of Ukraine, the United States is supporting a multinational team of international prosecutors to the region to directly support the efforts of the Prosecutor General's War Crimes Unit to collect, preserve and analyze evidence of atrocities with a view towards pursuing criminal accountability," State Department spokesman Price said at a news briefing on Monday.
Ukrainian President Volodymyr Zelenskyy also accused Russia of committing "genocide," adding told CBS News on Sunday that "we are being destroyed and exterminated. And this is happening in the Europe of the 21st century." However, U.S. and other Western officials have not echoed his claims that a genocide is currently being carried out.
On Monday, Zelenskyy visited Bucha and asserted that "concentrated evil has come to our land. Murderers. Torturers. Rapists. Looters. Who call themselves the army."