The Pentagon said Wednesday that it believes Russia has started to reposition a "small percentage" of its troops that had been arrayed against Ukraine's capital Kyiv, but that none of them appear to be returning home.
Pentagon press secretary John Kirby issued an update after Russia announced Tuesday it will significantly scale back military operations near city.
"On the withdrawal, we have seen over the last 24 hours the repositioning of a small percentage of the troops and the battalion tactical groups that Russia had arrayed against Kyiv," said Kirby.
He said that based on early assessments, Russia has started to reposition some 20 percent of its forces.
"Some of those troops we assess are repositioning into Belarus. We don't have an exact number for you, but that's our early assessments," Kirby told reporters during a press briefing.
"We have seen none of them reposition to their home garrison, and that's not a small point," said Kirby.
The Pentagon spokesman said that if Russia is "serious about de-escalating," then "they should send them home."
"But they're not doing that, at least not yet," Kirby continued. "So that's not what we're seeing."
Russian Deputy Defense Minister Alexander Fomin said on Tuesday that Moscow had decided to "fundamentally … cut back military activity in the direction of Kyiv and Chernihiv" to "increase mutual trust and create conditions for further negotiations" amid ongoing negotiations between Ukraine and Russia.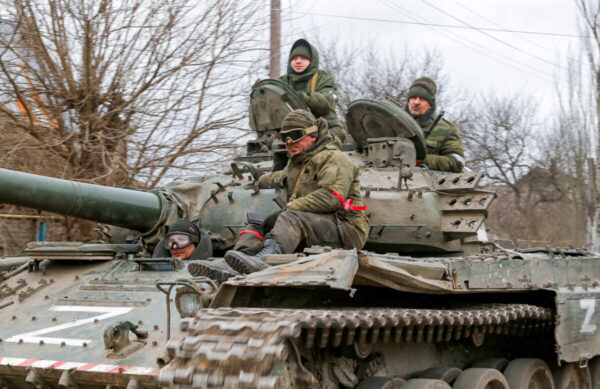 Kirby said the Pentagon believes Russia may "refit" these repositioned troops and move them elsewhere, although he offered no evidence to support the assessment.
Russia could "resupply them and then probably import—employ them elsewhere in Ukraine," said Kirby.
"But I don't believe that at this stage, we've seen the refitting going on with any specificity," he added.
Russia's announcement on Tuesday was initially met with skepticism from the United States and others.
Ukrainian President Volodymyr Zelenskyy said Russia cannot be trusted. Although the signals from the talks are "positive," they "can't silence explosions of Russian shells," he said in a video address.
Zelenskyy said it was Ukrainian troops who forced Russia's hand, adding that "we shouldn't let down our guard" because the invading army still "has a great potential to continue attacks against our country."
Ukraine will continue negotiations, he said, but officials do not trust the word of the country that continues "fighting to destroy us."
Ukrainian authorities said Wednesday that Russian forces bombarded areas around Kyiv and another city just hours after pledging to scale back operations in those zones to promote trust between the two sides.
Negotiations between Ukraine and Russia were set to resume Friday by video, according to the head of the Ukrainian delegation, David Arakhamia.
The Associated Press contributed to this report.