Ukrainian officials have said that they see some grounds for optimism following the latest round of peace talks in Istanbul, while a Kremlin spokesperson said the negotiations had yielded no breakthroughs and that much work remains to be done before a deal could be reached that would put an end to the fighting.
"I have an optimistic impression of the round of negotiations in Istanbul," Ukrainian negotiator Mykhailo Podolyak told an online briefing following the talks, at which Moscow stated that it would scale back its military operations in parts of Ukraine.
Russia stated that it would "radically" scale down its operations near Kyiv and Chernihiv, a pledge that the West dismissed as a ploy to regroup by Russian forces that have taken heavy losses.
Ihor Zhovkva, deputy head of Ukrainian President Volodymyr Zelenskyy's office, told the BBC on March 30 that negotiations had "definitely moved forward."
But intensified bombardment was reported on March 30 in a suburb of Kyiv that had seen weeks of heavy clashes, while the mayor of Chernihiv said Russian forces had ramped up their shelling there over the past 24 hours.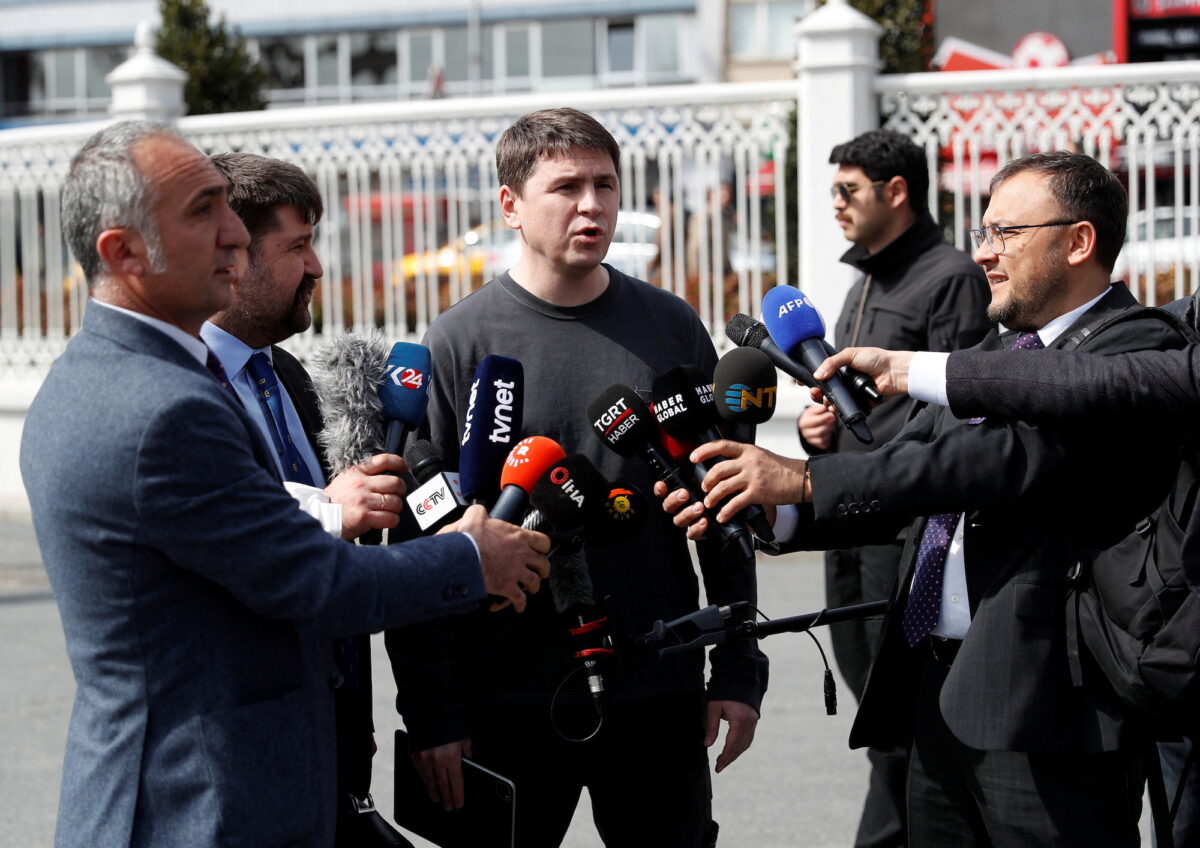 Kremlin spokesman Dmitry Peskov welcomed on March 30 the fact that Kyiv had set out its demands for a ceasefire, but noted that no breakthroughs were made in the talks, noting that a lot of work remains before a peace deal can be struck.
Ukrainian negotiators presented a series of proposals on March 29, including that Kyiv would adopt a neutral status in exchange for security guarantees that would legally oblige guarantor countries to provide military assistance to Ukraine, including imposing no-fly ones, in case of an attack.
Podolyak said the security guarantee proposal would be put to a nationwide referendum only after Russian troops withdrew to the positions that they held before invading Ukraine.
Russia's lead negotiator, Vladimir Medinsky, who called the talks "constructive" on March 29, said Russia's delegation would study and present the Ukrainian proposals to Russian President Vladimir Putin before formulating a response.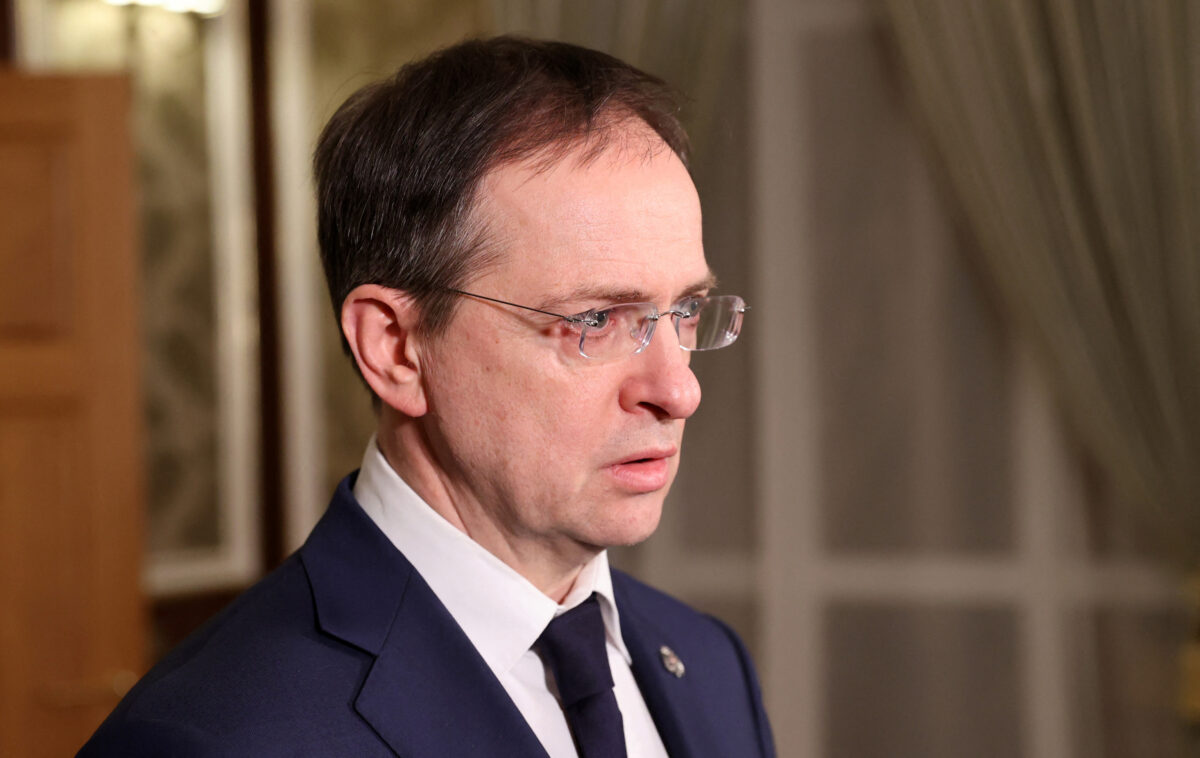 Medinsky said on Russian television on March 30 that Kyiv had stated its willingness to meet core Russian demands. He noted that Ukraine stated in writing that it was willing to give up its NATO membership ambitions, renounce weapons of mass destruction, and pledge to not host foreign troops in its territory.
"Ukraine has declared its readiness to fulfil those fundamental requirements that Russia has been insisting on over the past years. If these obligations are met, then the threat of creating a NATO bridgehead on Ukrainian territory will be eliminated," Medinsky said.
A key concern for Russia has been the prospect of Ukraine joining NATO, which Moscow has long considered to be a geopolitical rival.
Medinsky also said that Russia continues to stand by its demands for Ukraine to acknowledge Crimea as belonging to Russia and for Kyiv to recognize the independence of Donetsk and Luhansk, the two separatist-controlled breakaway statelets in eastern Ukraine, known collectively as the Donbass.
Territorial concessions are a major obstacle in the talks, with Ukraine repeatedly insisting that it wouldn't cede any territory, although Zelenskyy has expressed an openness to discussing a special status for the breakaway regions.
Despite reports of intensified Russian bombardment near Kyiv and Chernihiv on March 30, there were signs that some Russian forces had withdrawn.
UK intelligence said some Russian units facing big losses had returned home or went to neighboring Belarus in order to "resupply and reorganize."
Christo Grozev, lead Russia investigator with Bellingcat, an investigative journalist group, wrote in a March 29 Twitter post that there were "clear signs" that Russian troops from the Kyiv area were heading back to Russian territory.
In general, however, Western officials and analysts have expressed doubt about the scale of Russia's stated pullout and its rationale.
Pentagon spokesman John Kirby said at a March 29 briefing that U.S. intelligence had detected small numbers of Russian ground forces moving away from the Kyiv area, but it appeared to be a repositioning of forces and "not a real withdrawal."
Analysts at the Institute for the Study of War, a U.S. think tank, questioned Russian declarations about the wind-down, suggesting that Moscow's apparent expressions of goodwill were "possibly to conceal the fact that they have accepted the failure of their efforts on the Kyiv axis."
Analysts say Russian forces have been bogged down near Kyiv and face increasing pressure from the Ukrainian military.