Ohio Gov. Mike DeWine's decision to not participate in a GOP gubernatorial debate has already led to an unexpected surprise in his re-election bid.
A forum coordinated by the Ohio Debate Commission was scheduled for March 29 at Central State University, located four miles from DeWine's Cedarville home. The governor declined the invitation, claiming that Ohioans already know where he stands with his policies.
That strategy could generate ongoing negative results if what happened at the Cuyahoga County Republican Party endorsement meeting on March 26 continues.
DeWine, who was endorsed by the Ohio Republican Party State Central Committee (ORP SCC) at a heated meeting on Feb. 18, anticipated the same support at the Independence Civic Center in suburban Cleveland.
Instead, former U.S. Representative Jim Renacci decisively received the nod, 123–73.
Canal Winchester farmer and restaurant owner Joe Blystone and former Ohio State Representative Ron Hood did not receive a vote. Blystone attended the meeting and spoke. Hood was not there.
"Our campaign to deliver accountable conservative leadership to Ohio continues to surge and we are thrilled to have the support of the Cuyahoga County Republican Party," Renacci said.
"I have a different vision than the current governor, and I'm going to work real hard to get elected and bring Republican values back to this state and Cuyahoga County."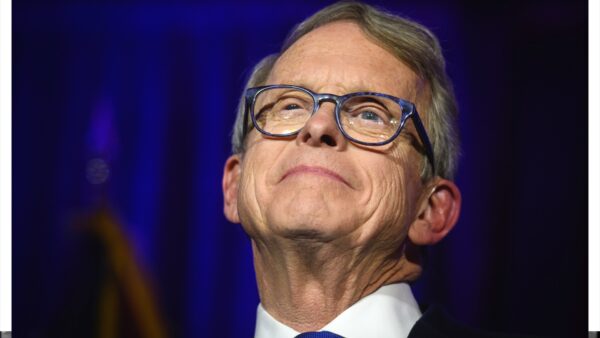 DeWine entered the Independence Civic Center to cheers from members of his welcoming committee—people who are part of the DeWine reelection campaign who attended to whip up support.
The mood quickly changed, however, when the governor entered the event space where members of the county central committee and executive committee were assembled.
"He was clearly booed by the crowd when he was introduced to the members," Shannon Burns, a Cuyahoga County executive committee member who also serves on ORP SCC, told The Ohio Press Network.
"That's why they didn't have DeWine come out of his basement to attend the Ohio Republican Party State Central Committee meeting in February because he would have been booed there, too."
At the ORP SCC meeting on Feb. 18, DeWine captured the endorsement with a vote of 36–26. DeWine did not attend that gathering. Renacci was not allowed to address the group before votes were tallied. The ORP SCC includes 17 people who are employed by DeWine or were appointed by him.
The agenda for Cuyahoga County Republican Party meeting on March 26 featured a resolution that would have recommended a vote to endorse DeWine. After the meeting started, and the time arrived for a vote, there was a motion to endorse Renacci.
DeWine left the meeting before the official endorsement of Renacci was made. Votes were collected via secret ballot.
"The secret ballot was important because it allowed people to do what they truly wanted to without fear of repercussion," Burns said.
Burns said that the 123–73 vote for support of Renacci is consistent with the polling his group is completing.
A poll by The Hill/NBC4i/Emerson College that was conducted from Feb. 25–26 showed DeWine at 34 percent support followed by Blystone (20 percent), and Renacci (9 percent). Thirty-six percent are undecided.
The poll also showed that 45 percent of voters approve of DeWine's job as governor while 37 percent disapprove, and 18 percent are neutral or have no opinion.
DeWine has 47 percent approval among Democrats, 46 percent approval with Republicans, and 42 percent from independents, according to the survey.
A Fox News poll conducted by Beacon Research and Shaw & Company Research between March 2–6 placed DeWine in first place on 50 percent, followed by Blystone (21 percent) and Renacci (18 percent).
DeWine refused the ODC's offer to take the stage with Renacci, Canal Winchester farmer and restaurant owner Joe Blystone, and former state Rep. Ron Hood on March 29.
"One hour with four people, I'm not sure really adds a whole lot to what the public knows about Mike DeWine or public policy debate," DeWine said. "It might be an entertaining hour, not sure how productive an hour."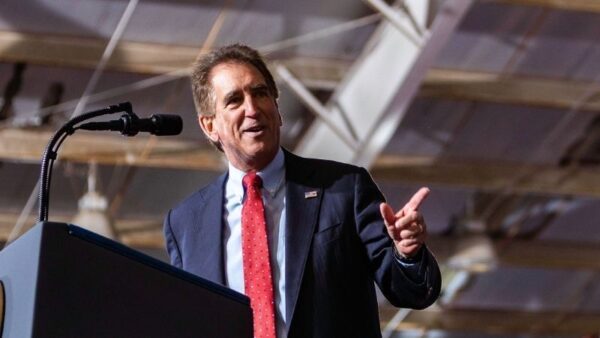 The 63-year-old Renacci is a businessman who served as mayor of Wadsworth in suburban Cleveland before representing Ohio's 16th Congressional District from 2011 to 2019. He ran for the U.S. Senate in 2018, defeating Mike Gibbons in the GOP primary and losing to Sherrod Brown in the general election.
Gibbons, a Cleveland investment banker who is vying to replace retiring Sen. Rob Portman in the crowded GOP U.S. Senate primary, also gained the endorsement of the Cuyahoga County Republican Party on March 26.
Upon learning that DeWine would not appear at Central State on March 29, Renacci also declined to participate, citing that "it is not a gubernatorial debate without the governor." He criticized DeWine for refusing to attend.
"Mike DeWine has spent his term governing like a blue state liberal—shuttering our economy, irreparably harming our kids' access to education, trashing Donald Trump, and turning Ohio into ground zero for public corruption," Renacci said. "And now he's refusing to answer for any of it.
"As a pro-Trump, committed conservative who has a clear plan to lead Ohio out of the mess DeWine has created, I'm not surprised he's terrified to debate me," Renacci added.
"But what does shock me is that Gov. DeWine thinks so little of the countless Ohio families whose lives he's harmed, futures he's ruined, and businesses he's destroyed, that he won't even take the debate stage to attempt to justify it—let alone apologize for it."
In a statement posted on his website on March 18, Renacci challenged DeWine to agree to a different option for debating.
"If DeWine is worried about getting booed by protesters, then I challenge him to a debate without a live audience and without interruptions," Renacci said in the statement. "DeWine hiding from tough questions by the Ohioans whose livelihoods he destroyed and voters he's let down is simply inexcusable."