Agreeing on a ceasefire in Ukraine would not be enough for the UK to lift its sanctions on Russia, Prime Minister Boris Johnson has said.
Johnson told his Cabinet that "a ceasefire alone would not be cause for UK sanctions to be removed in Russia," the prime minister's official spokesman said on Tuesday.
"He said the pressure on Putin must be increased both through further economic measures and providing military aid to ensure Russia changes course completely," the spokesman said.
A full withdrawal would be a good start but a ceasefire was only the first step towards that, the spokesman suggested.
"But it cannot be a ceasefire alone," he said. "That would not be the significant step we'd need to remove the pressure."
He said: "I think as ever, we will judge Putin by his actions."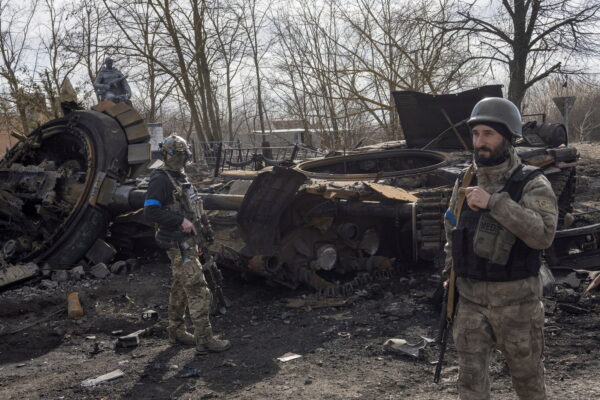 Foreign Secretary Liz Truss said on March 27 that the sanctions can only be lifted with "a full ceasefire and withdrawal" and "commitments that there will be no further aggression."
"Snapback sanctions" will be quickly reimposed if Russia commits "further aggression" in future, she said in an interview with The Sunday Telegraph.
Her remarks fit with those of her U.S. counterpart, Secretary of State Antony Blinken, who has said the travel bans and asset freezes are "not designed to be permanent," and the sanctions could "go away" in the event of an "in effect, irreversible" withdrawal of Russian troops.
There are signs of progress on Tuesday in talks between Russian and Ukrainian negotiating teams in Istanbul.
Turkish Foreign Minister Mevlut Cavusoglu said the talks marked the most significant progress in discussions to date.
Ukrainian negotiators said they had proposed that Ukraine adopt neutral status in exchange for security guarantees, meaning Kyiv would not join military alliances or host military bases.
Russia has decided to drastically cut its military activity around Kyiv and Chernihiv in Ukraine "in order to increase mutual trust and create the necessary conditions" for the talks, Russian deputy defence minister Alexander Fomin said on Tuesday.
Meanwhile, Downing Street said the UK will be providing further military aid to help Ukraine regain its territory that has been taken by Russian forces.
The Chief of the Defence Staff, Adm. Sir Tony Radakin, told Cabinet ministers the UK is "moving to a new phase in its support of Ukraine as the Ukrainian army sought to defend and regain its territory," the prime minister's official spokesman said.
Asked if this means sending more offensive rather than defensive weaponry, the spokesman said the UK does not want to do anything which had any "escalatory effects."
But he added, "We are considering all possible options when it comes to making sure the Ukrainian government have what they need to defend themselves."
PA Media and Reuters contributed to this report.