Pennsylvania State Police (PSP) and the Pennsylvania Capitol Police are donating used body armor to Ukraine.
In all, the state will donate about 91 nearly-expired ballistic vests that were scheduled to be destroyed, plus 15 ballistic helmets. They are considered surplus.
While the ballistic properties are still good on aged-out vests, sometimes the straps wear out or get torn off, so the vests are replaced regularly. Police examined the vests before donation and held back those that would not be usable, State Police Commissioner Col. Robert Evanchick said during a March 23 press conference at PSP headquarters in Harrisburg, Pennsylvania. He also assured that the vests are still effective.
"Over the years we've had research and development people actually take expired ones and put rounds to them, and they are still workable at that point," Evanchick said.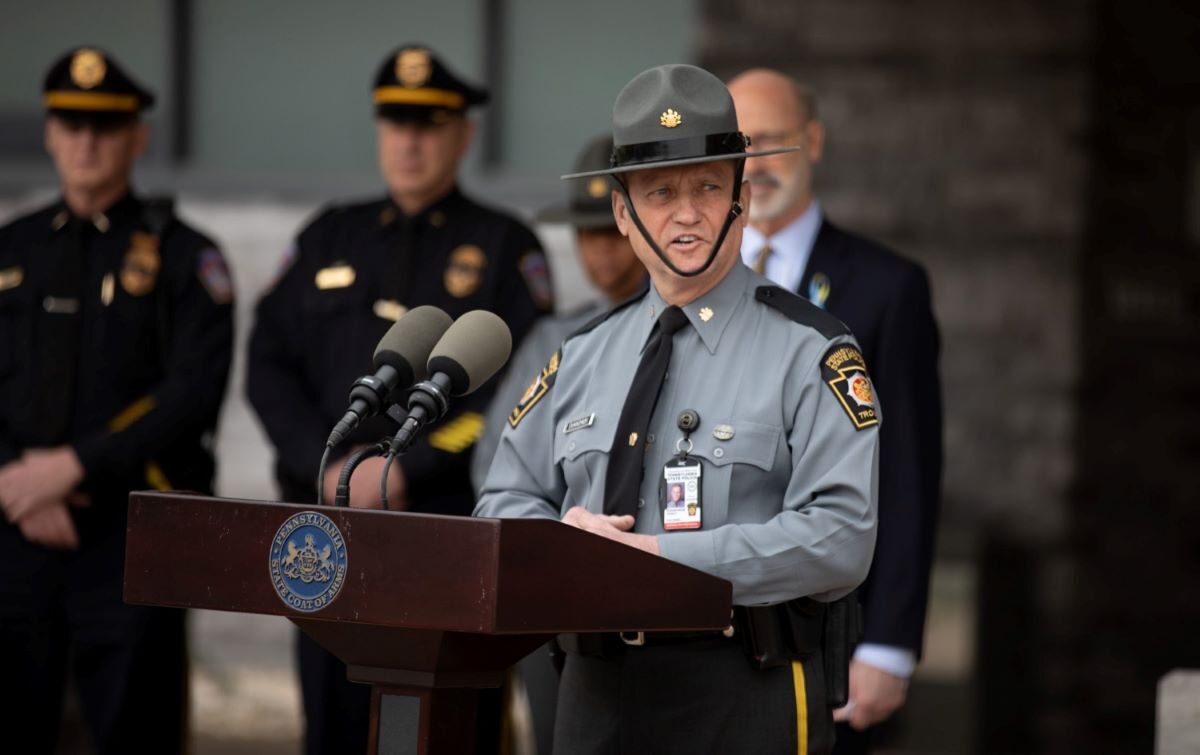 The gear will go to emergency workers, police, firefighters, and those who are responding to incidents without protection.
But first, the equipment will travel a bit. It will be delivered to the Vermont State Police, transferred to the Vermont Army National Guard, then shipped to the California Army National Guard, which will coordinate the shipment to Ukraine pending regulatory approval.
The Vermont and California national guard units have a special relationship with Ukraine, including having a supply chain in place, Pennsylvania Gov. Tom Wolf explained, so it makes sense to send the equipment through them. Similarly, the Pennsylvania National Guard has a relationship with Lithuania.
"Pennsylvania has the second-highest number of Ukrainian descendants of any state in the United States, and so I think it's fitting that Pennsylvania does this kind of thing," Wolf said during the press conference while wearing a blue-and-yellow lapel ribbon denoting the colors of the Ukrainian flag.
The Ukrainian Consulate recently visited Harrisburg and asked the Wolf administration for help with the war effort by offering safety gear like the body armor. There was also a request for masks and food. Wolf said the Department of Agriculture and the Department of Community and Economic Development are working on providing food. The state also stockpiled masks used for COVID-19 mitigation and will be sending some of those.
Wolf urged the state Legislature to approve $2 million for aid to support Ukrainian refugees who may travel to Pennsylvania, although he said he was not aware of any large groups of refugees arriving yet.
"This is an ongoing thing and we continue to do what we can to respond to what they're asking for," Wolf said.