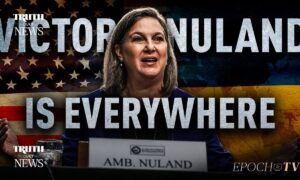 Victoria Nuland, Biden's under secretary of state for political affairs, is the Forrest Gump of political operatives—with an uncanny habit of disrupting international relations.
Although many are unfamiliar with her gaffe-filled history, Nuland has played roles throughout pivotal moments in our nation's foreign policy history.
Nuland, who held a background role in Hillary Clinton's Benghazi scandal, helped the United States to orchestrate a coup in Ukraine in 2014—and did so with Biden's involvement.
It was Nuland who gave permission to Christopher Steele's FBI handler, Micheal Gaeta, to meet with Steele in early July 2016—an event that proved to be the opening salvo in the FBI's quest to get Donald Trump.
Nuland, who had received more than 100 previous reports from Steele, later admitted that she provided copies of the dossier to FBI leadership and then-Secretary of State John Kerry.
More recently, Nuland made a startling admission that U.S.-funded Ukrainian biolabs might fall into Russian hands.
Welcome to Truth over News with Jeff Carlson and Hans Mahncke.