Inflation is up and is being felt in every part of American life, including at the gas pump. Congressman Gary Palmer (R-Ala.), who serves on the Energy and Commerce Committee, said increasing the development of all domestic energy resources, especially oil and gas will help lower inflation because increased fuel costs permeate all levels of the economy.
"Well, it will, because energy is the most ubiquitous part of the entire economy, there's an energy cost in everything," Palmer told the host of NTD Capitol Report Steve Lance.
"So, if you can reduce energy cost, your manufacturing costs come down, your production costs come down, your wholesale, and you're warehousing and your transportation."
The national average gas price was $4.24 per gallon as of March 23, according to data from automotive group AAA. That's up from $3.53 in February, before the Russian invasion of Ukraine, and up from $2.88 in March 2021, data show.
"If we open up our energy resources, you will see prices come down. We've seen it already," Palmer said citing the fluctuations in natural gas prices which he said have been as high as $15 a unit and lowered to around $3.
The Congressman criticized the congressional Democrats' latest proposal to subsidize the high cost of gas, which they say is temporary and caused by the Russian invasion of Ukraine, by sending people checks from the federal government.
The rebates that Rep. Mike Thompson's (D-Calif.) bill proposes are $100 for single filers earning less than $75,000 and $100 for joint filers earning more than $150,000.
"Well, the Democrat policies of printing more money is another reason why we have rampant inflation. And you combine that with the increase in energy costs, it's going to make it worse, not better," Palmer said. "They're totally out of touch with the American people. And I understand we've got an issue with climate change, with CO2 emissions, we can deal with that."
Palmer pointed to the recently sanctioned Russian oil imports, which when produced he said has 40 percent more CO2 emissions than American oil.
He also said the United States has an abundance of both oil and natural gas so, it does not make sense to import it.
"We refuse to buy natural gas that's produced right here in the United States because we're trying to eliminate that industry. That makes no sense," he said.
The former president of Alabama Policy Institute said that the United States has enough of its own oil and natural gas to power the nation and bring down global energy prices, while still developing renewables to replace fossil fuels when technology allows.
"Well, I support renewable energy, but it will not supply the nation's needs and not in the timeframe that the Democrats are pushing," he said.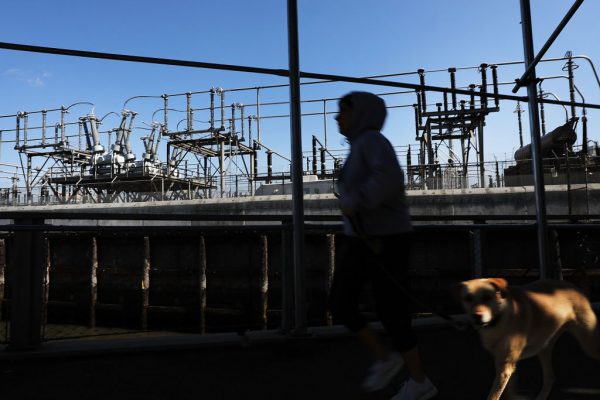 Palmer who worked for two engineering companies before being elected to the House of Representatives in 2014, said U.S.'s energy infrastructure is a patchwork grid, functioning as different parts.
He said U.S. energy demands cannot be met with renewables alone.
"But each part of that requires a consistent baseload, which you do not get with solar or turbans. Natural gas, on the other hand, is the cleanest fossil fuel that we have," he said.
"You build one of those facilities, and it will generate power for 65 years, a solar facility maybe 25 to 30 years and you can't recycle the solar panels. A turbine, wind turbine generation facility maybe 25 to 30 years. But after 10 years, the generating capacity declines precipitously, and you can't recycle the blades."
Palmer said he believes our energy independence will come from developing a variety of energy resources including, nuclear, gas, oil, and renewables.
"So, we need a mix. And I really think the future in terms of eliminating emissions is next-generation nuclear," he said.
"And particularly now that we have the technology to recycle spent fuel rods would still retain about 90 percent of their energy capacity. That's the direction we ought to be going."