Workers at a Seattle Starbucks on March 22 voted unanimously to unionize, giving the Starbucks Workers United, an affiliate of the Service Employees International Union, one of its most high-profile wins to date.
Starbucks is headquartered in Seattle. Of the 13 employees eligible to vote at the state's Broadway and Denny location, nine voted in favor and none voted against joining the union, according to the National Labor Relations Board (NLRB).
One ballot was challenged, according to The Seattle Times.
Workers at the branch in the Capitol Hill neighborhood previously said they were organizing the union vote as "a commitment to growing the company and the quality of our work" and that the desire to do so was not "a reaction to specific policies, events, or changes."
"We see unionizing as a fundamental and necessary way to participate in Starbucks and its future as partners," four of the employees wrote in a letter to Kevin Johnson, CEO of the Seattle-based coffee giant.
However, workers at Starbucks stores across the United States have complained of an increased workload, further exasperated by the company's mobile app and other food services which have left them overworked after a surge in mobile orders amid the COVID-19 pandemic.
Employees also want more of a say on how the stores are managed and how the technology should be utilized.
Union organizers say they are seeking better training and staffing and better pay for workers which they hope to be increased over time. They also want workers to have more respect from management.
The first corporate Starbucks store was unionized in Buffalo, New York, in December 2021, followed shortly by another Starbucks store in Buffalo on Jan. 10. A total of six other Seattle Starbucks locations have filed for union elections in Buffalo, New York, and Mesa, Arizona, according to CNBC.
The Epoch Times has contacted Starbucks for comment.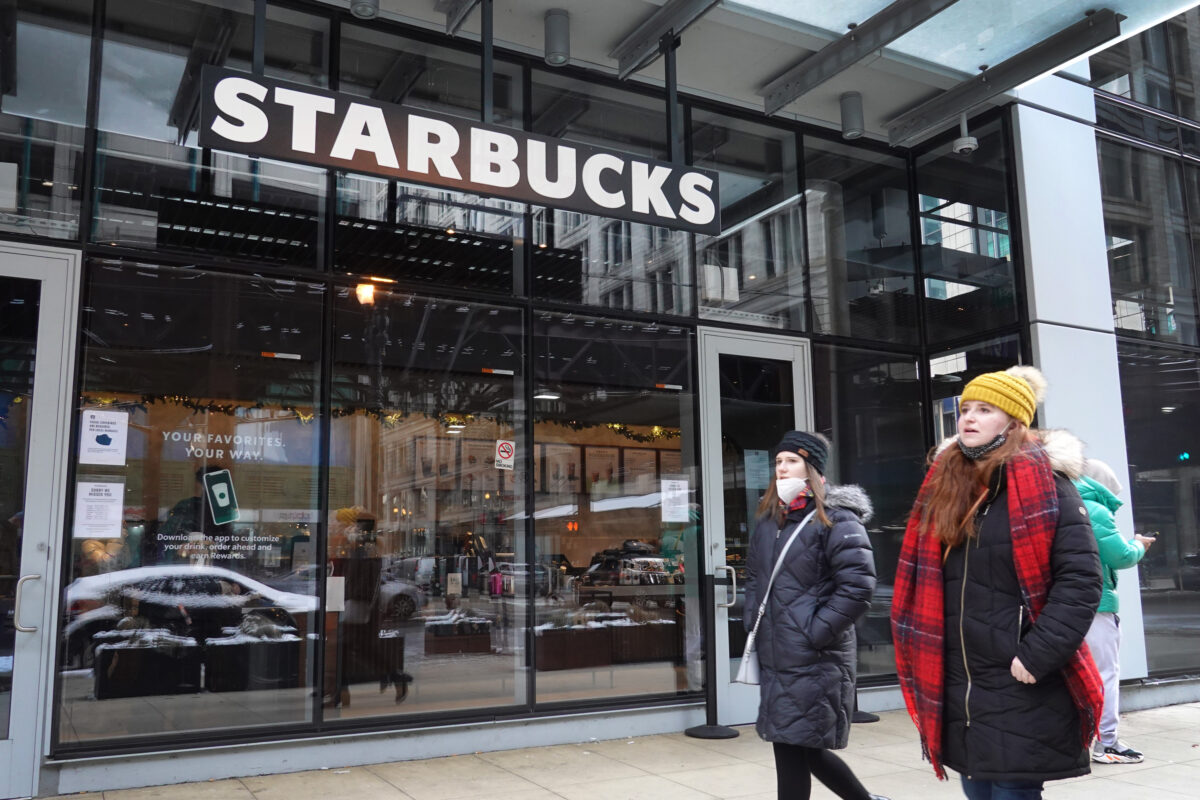 Employees at the Broadway and Denny branch praised the move and said they were hopeful the vote to unionize would make a difference at future union votes in other Starbucks coffeehouses across the nation.
"We're super excited," employee Sydney Durkin said during a news conference after the vote. "This has been a long time coming. We filed three months ago [and] we have been waiting for a very long time for this moment. We knew it was going to be a victory."
"I'm really excited for what this means for the national movement and specifically Seattle," said Rachel Ybarra, a 22-year-old barista who has worked at the store for nearly two years. "I know that this is going to make other stores more confident to contact us and make all the other stores that are working to file that more confident."
Now that the store has opted to unionize, employees—or what Starbucks refers to as "partners"—will negotiate with the company for a contract.
Unionization has become an increasingly partisan issue, according to data from the Pew Research Center. As of July 2021, 55 percent of U.S. adults said labor unions have a "positive effect on the way things are going in the country," with that figure remaining unchanged since 2019.
Starbucks runs nearly 9,000 stores in the United States. At least 140 more stores in 27 states have filed petitions for union elections, The Associated Press reported.
In early February, the company fired seven workers at a store in Memphis, Tennessee, in the midst of efforts to unionize company employees, claiming that the firings were the result of violated policies, although workers argued the policies were unclear.
Following Tuesday's vote, a Starbucks spokesperson told KOMO News in an emailed statement that it was "listening and learning from the partners in these stores as we always do across the country."
"From the beginning, we've been clear in our belief that we are better together as partners, without a union between us, and that conviction has not changed," the spokesperson said.
The latest union vote comes shortly after CEO Kevin Johnson announced his retirement after 13 years at Starbucks and five years at the helm of the company.
Starbucks founder Howard Schultz will return to the company as interim CEO, marking the third time he has done so, until the board finds a long-term replacement.