At least eight people were killed by Russian shelling that struck a shopping mall on the outskirts of Kyiv, local authorities said, also heavily damaging nearby residential buildings.
A video released by the Russian Ministry of Defence showed a large blast outside the Retroville shopping center in the Podilskyi district on March 20.
Russian Defense Ministry spokesman Maj. Gen. Igor Konashenkov alleged on Monday that Ukrainian forces used the shopping mall to reload multiple rocket launchers and store rockets used for shelling Russian troops.
Konashenkov said that a battery of multiple rocket launchers and ammunition for them was destroyed in the strike. NTD News could not independently verify the defense ministry spokesman's claims.
"Ukrainian nationalist units hid between residential buildings for several days and fired from multiple launch rocket systems at Russian military personnel," Konashenkov said. "At the same time, the areas of the nearby shopping center were used as a large base for storing rocket-propelled ammunition."
The blast also damaged nearby buildings in the densely populated Podil district and left smoking piles of rubble. The impact of the rockets had shattered every window in a neighboring high-rise.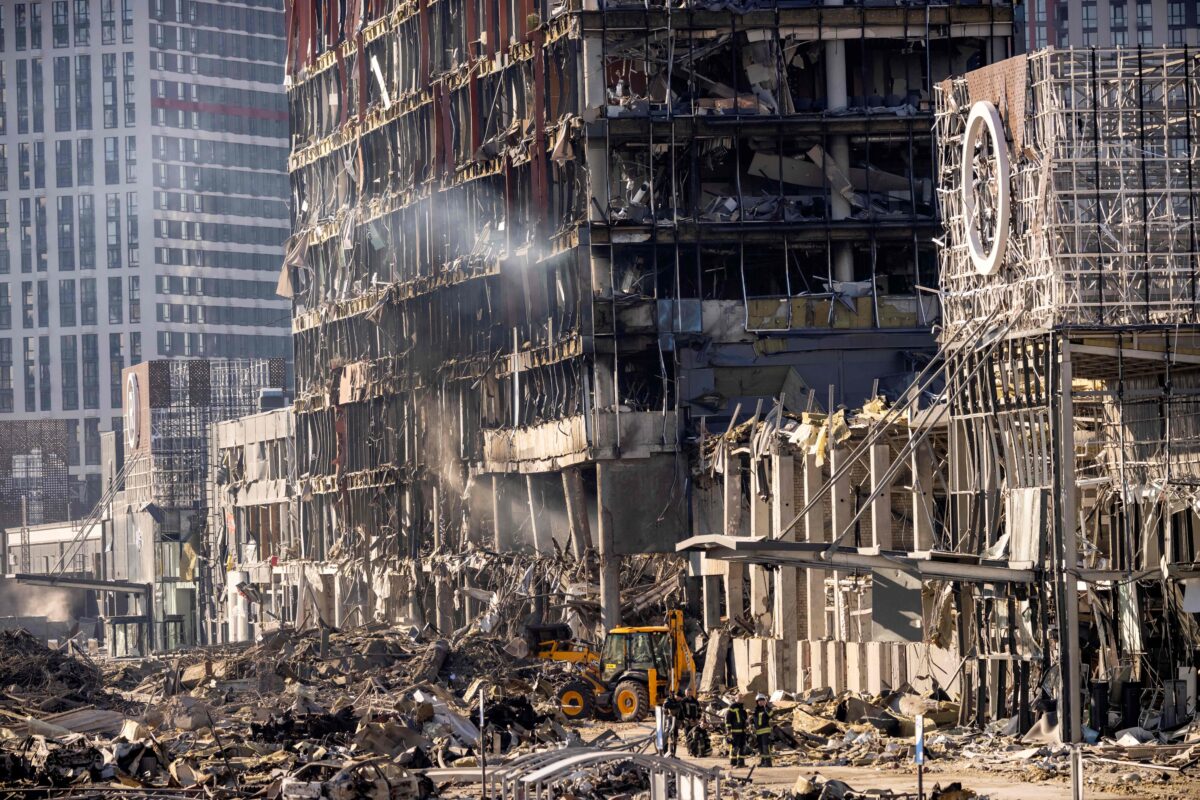 Ukrainian State Emergency Services urged firefighters to rescue people trapped in the rubble of the shelled mall and extinguish flames that had reached the third and fourth floor of the mall, The Kyiv Independent reported.
Iryna Venedictova, the prosecutor-general of Ukraine, said the current death toll of eight people was based on preliminary information and could still rise.
The war in Ukraine, which Moscow calls a "special military operation," has killed hundreds of civilians since Russia launched its invasion nearly one month ago.
The U.N. human rights office (UNHCR) recently said that at least 902 civilians had been killed in Ukraine as of March 19, noting that the real toll could be higher.
Ukraine's military claimed on March 20 that Moscow's combat losses included 14,700 personnel and 476 tanks. Russia last acknowledged on March 2 that nearly 500 of its soldiers had been killed. NTD News could not independently verify either casualty number.
The Associated Press contributed to this report.
From NTD News