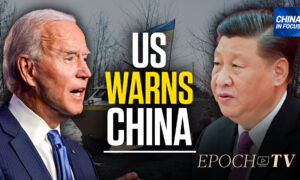 A phone call took place between two of the world's most powerful leaders. It's the first time they've met since the start of Russia's invasion of Ukraine. But will the meeting shift the current situation?
A number of Chinese citizens have been charged by U.S. authorities. They're accused of spying on American citizens and plotting a deadly car accident.
A Queens lawyer's death shocks exiled Chinese dissidents in the United States after he was fatally stabbed by a woman from China.
China's pandemic lockdown policies seem to have deja vu. Factories have halted production, and cities are turning into ghost towns—all as China battles its worst virus outbreak in two years.
Taiwan is sending more aid for Ukraine. But China isn't happy, as Beijing officials slam the island for what they called "taking advantage of the difficulties of others."
Have other topics you want us to cover? Drop us a line: chinainfocus@ntdtv.org
And if you'd like to buy us a coffee: https://donorbox.org/china-in-focus
Subscribe to our newsletter for more first-hand news from China.
For more news and videos, please visit us on Gettr and Twitter.