When Ohio Gov. Mike DeWine signed a bill on March 14 that makes concealed carry permits optional in the state, it continued an inconsistent track record with firearms legislation that has been on display since he took office in 2019.
Before signing Senate Bill 215 (Constitutional Carry), DeWine passed a "Stand Your Ground" law in January 2021. This eliminated the requirement for a person to retreat before he or she can shoot someone in self-defense.
The longtime politician also announced multiple gun reform proposals after a 2019 mass shooting in Dayton, Ohio, but those recommendations have not been embraced by the Republican-controlled Ohio Legislature.
Ohio voters are scheduled to head to the polls on May 3 for the primary, and DeWine faces challenges from former Congressman Jim Renacci, farmer Joe Blystone, and former Ohio state representative Ron Hood. All three of his opponents are vocal about preserving the Second Amendment.
The National Rifle Association has saddled DeWine with an "F" rating. A Pew Research Center survey shows that Republican voters are more likely to own guns and less likely to support gun restrictions than their Democratic peers.
The same poll also indicated that DeWine has more support from Democrats (47 percent) than Republicans (46 percent).
The NRA, the Buckeye Firearms Association, and the Ohio Gun Owners organization have not made an endorsement in the Ohio governor's race.
Former Cincinnati mayor John Cranley and former Dayton mayor Nan Whaley are candidates in Ohio's Democratic Party gubernatorial primary. Both are outspoken about DeWine's unpredictable decisions about firearms.
Lost Credibility
"He has shredded all credibility on common-sense gun safety issues," Cranley said.
"This just shows DeWine doesn't really stand for anything when it comes to common-sense gun legislation and that when he promised the people of Dayton that he would do something, he wasn't meaningful about it at all," Whaley said.
Introduced by Republican State Sen. Terry Johnson, SB 215 will allow anyone who is 21 or older and legally able to possess a weapon to carry a concealed gun without a permit or training.
When the law takes effect on June 12, it also removes the requirement for gun owners to notify law enforcement that they are armed, but they must inform police officers if asked.
Conceal-carry applicants currently must complete eight hours of training and pass a background check to get their license in Ohio.
Opponents of the bill include Hamilton County Sheriff Charmaine McGuffey and the Fraternal Order of Police of Ohio among other law enforcement agencies.
They believe the law will make Ohio more dangerous for police and residents.
"To allow people to carry concealed with no background check, no documentation of who they are, and no training, is dangerous," McGuffey said. "I am not against the Second Amendment—the right to bear arms. What I'm asking people to do is consider that there must be some failsafe placed into the system."
Permitless carry measures were enacted in Arkansas, Iowa, Montana, Tennessee, Texas, and Utah last year, the Pew Research Center reported. When SB 215 becomes law in June, Ohio will become one of 22 states where it is legal to carry a concealed gun without a permit. Alabama's law takes effect next year.
In neighboring Indiana, House Bill 1296 is on the desk of Republican Governor Eric Holcomb and awaits his decision this week.
If passed, the legislation would add Indiana to the list of states allowing constitutional carry.
"This is not a novel concept," said Dean Rieck, executive director of Buckeye Firearms Association. "Those states haven't had any big problems with this. We don't think Ohio is going to have any problems either."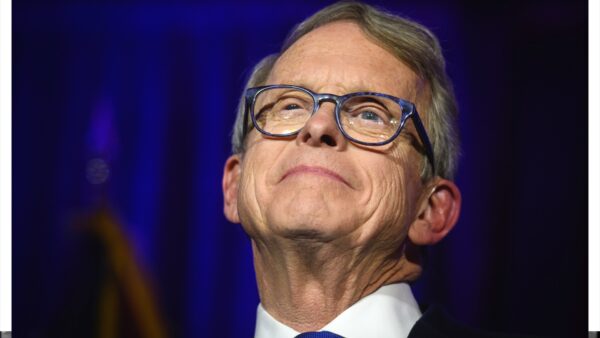 Critics, including Moms Demand Action for Gun Sense Founder Shannon Watts, think DeWine is ignoring pleas from law enforcement in favor of political points among Republican voters.
"Police are weighing in against permitless carry matters," Watts said. "But I guess the question is at end of the day, those Republicans who are worried about being primaried, are they going to put public safety over their hopes for the primary election?"
Changing Stances
On the campaign trail for governor in 2018, DeWine told gun organizations that he would sign two major firearms bills if they were passed by the state legislature. One centered on using lethal force in self-defense. The other was constitutional carry.
His stance changed on August 4, 2019. On that night, Connor Betts opened fire in a bustling downtown Dayton entertainment district. Nine people, including Betts' sister, were killed and 27 others were injured.
After the mass shooting, DeWine unveiled multiple proposals aimed at curbing gun deaths, including the creation of a voluntary state-level background check process for gun sales between private sellers, stiffer state penalties for illegally selling a firearm, and expansion of Ohio's existing "pink-slip" law that allows authorities to send people with drug or alcohol issues to a psychiatric hospital, where they are not legally able to have guns.
DeWine's recommendations also featured a "red flag" law.
This permits family members or police to request the removal of firearms from individuals if they are deemed a danger to themselves or others. Red flag laws have been instituted in 17 states.
GOP lawmakers who control the Ohio House and Senate opposed former Gov. John Kasich's attempt to pass a red flag law in 2018, saying his version would violate Ohioans' rights.
As governor, DeWine continues to advocate for background checks on all gun sales, just as he did when he voted for background checks on sales at gun shows when he was in Congress.
Strong Ohio, or Senate Bill 221, includes the recommendations DeWine announced after the mass shooting.
SB 221 is sponsored by Republican State Sen. Matt Dolan, who is currently vying in the crowded and heated race to replace retiring U.S. Sen. Rob Portman.
It was introduced in October 2019 and is languishing in a Senate Government Oversight and Reform Committee.
DeWine warned Ohio legislators, "Don't send me any gun bills until you deal with the plan I introduced after the Dayton mass shooting in August 2019."
In December 2019, DeWine told the Columbus Dispatch that his New Year's resolution for 2020 was to not get into "other issues that are related to guns" until Strong Ohio was addressed.
"We're focused every single day on passing Strong Ohio, and that's what I am going to do. That's the commitment I made to the people of Dayton and the people of Ohio," DeWine said.
"I believe that next year we'll see the legislature pass our Strong Ohio bill and there will be a ceremony where I am signing the bill into law."
His prediction did not materialize, and he expressed his dismay to the Dispatch once more at the end of 2020.
"I've made it very clear, I think, many times going back months that I felt that before the legislature took up other gun bills that they really should focus on what we have sent them, where we know there are things that will absolutely save lives, protect children, protect families," DeWine said.
Disappointment In Legislature
After signing Senate Bill 175 (the Stand Your Ground law) in January 2021, DeWine expressed disappointment that the state legislature had still not adopted his Strong Ohio proposals.
"While campaigning for governor, I expressed my support for removing the ambiguity in Ohio's self-defense law, and Senate Bill 175 accomplishes this goal. That is why I have signed this bill today," DeWine said at the time.
"I am very disappointed, however, that the legislature did not include in this bill the essential provisions that I proposed to make it harder for dangerous criminals to illegally possess and use guns."
Second Amendment advocates praised DeWine for signing the Stand Your Ground bill.
"As he [DeWine] heads toward his re-election campaign, it would be a heck of a message to send gun owners if he signs constitutional carry," Buckeye Firearms Association lobbyist Rob Sexton said in January 2021.
"I think it would send a message that he can be counted on for strong, pro-gun legislation."
Whaley, who was still mayor of Dayton at the time, criticized the move.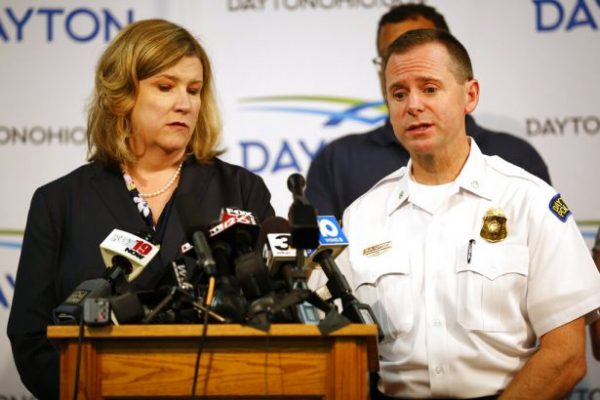 "Gov. DeWine came to our city and stood on stage for a vigil for our murdered friends and neighbors and then told us he stood with our community in our fight against gun violence. Now it seems he does not," Whaley said in a Twitter statement.
"Gov. DeWine has made clear he opposes this dangerous policy, but he once again folded to the extreme elements of his own party."
On March 11, DeWine was asked about the promises he made to gun-control proponents, to which he replied, "The job of the governor is to make tough decisions. And I have a decision to make."
DeWine stood with Whaley not long after the Oregon District mass shooting in Dayton when he announced proposed changes to Ohio gun laws.
If she wins the Democratic primary, and DeWine prevails in the GOP primary, the two will square off in the general election.
"What I've learned about Mike DeWine is whether it's around guns or COVID or redistricting, he'll say one thing when everybody's watching, when it's politically convenient, and do the exact opposite to kowtow to the radicals in his Republican party," Whaley said.
Renacci said that he would have signed SB 215 the "second it landed on my desk" and he will be a pro-Second Amendment governor if elected.
"I would not have hesitated to sign this bill even for a moment, let alone view it as a 'tough decision' like DeWine did," Renacci said.
"Ohio gun owners should make no mistake that the only reason DeWine decided at the 11th hour to sign this bill is that his reelection campaign is in serious trouble.
"He's a four-decade career politician who will say or do anything to get reelected," Renacci added.
"He'd gleefully sign a bill trampling on the Second Amendment without skipping a beat, and Ohio gun owners are rightfully nervous about what a second DeWine term would mean for their freedoms."