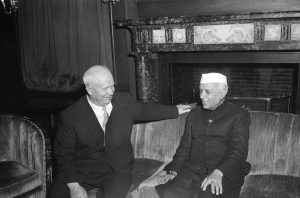 In this Sept. 26, 1960 file photo, Soviet Premier Nikita Khrushchev and India's Prime Minister Jawaharlal Nehru, right, hold a meeting at Russian U.N. delegation headquarters in New York.
Credit: AP Photo/Pool
India frustrated U.S. and European diplomats at the United Nations last week by declining to vote on a resolution condemning Russia's invasion of Ukraine. The abstention put India in an awkward spot: out of step with its strategic partner, the U.S., and in the same boat as its rival China. But the fence-sitting may have given the Indian government some leverage in its negotiations with Russia on safe passage for thousands of medical students trapped in eastern Ukraine.
Former Foreign Secretary Nirupama Menon Rao wrote that she was "sick at heart" to see India "contort" its statements to avoid offending Russia. Rao's candid assessment of India's foreign policy and its embrace of the diplomatic middle path can be found in her new book, "The Fractured Himalaya," which details events leading up to the Sino-Indian War of 1962. A forgotten episode during that "tumultuous autumn" in world affairs is worth recalling in light of the geopolitical shock waves emanating from Ukraine.
In mid-October 1962, Chinese and Indian troops clashed in the Eastern Himalayas over a disputed border. The fighting quickly escalated. India's Prime Minister Jawaharlal Nehru hoped he could count on an old friend, the Soviet Union.
Soviet leader Nikita Khrushchev, however, was preoccupied with a showdown on the other side of the world. The Cuban Missile Crisis was heating up precisely at the same time as the Sino-Indian war. Khrushchev reportedly urged Nehru to compromise on the border since he needed China's support. If India raised the issue at the U.N., he warned the USSR would have to stay loyal to China. Khrushchev also suspended the sale of military aircraft to India on the eve of the war to demonstrate Moscow's impartiality. An editorial in the state-run publication Pravda called the boundary favored by India an "infamous" colonial-era imposition. Moscow had turned its back on India at a critical moment.
Meanwhile, the United States made a "high-visibility" gesture of support for India's border claims. Overriding the State Department's reservations, U.S. Ambassador John Kenneth Galbraith endorsed the controversial McMahon Line with the approval of the White House. President John F. Kennedy was confronting the biggest crisis of his presidency but offered to help India with military supplies. C-130 Hercules transport aircraft dropped arms, ammunition, and extreme-weather clothing for Indian troops, fighting pitched battles at 16,000 feet in cotton uniforms. U.S. planes also flew reconnaissance missions along the border.
India was on the verge of a crushing defeat. In November 1962, Nehru sent Kennedy an "extraordinarily desperate" letter, asking for fighter jets to protect Indian cities from bombardment. Nehru's plea for military intervention went against India's policy of nonalignment and was greeted with disbelief in Washington. Secretary of State Dean Rusk, in a telegram to the embassy, wrote that Nehru was in effect proposing a military alliance. His request, Rusk added, "cannot be reconciled with any further pretense of nonalignment."
The U.S. did not intervene. China declared a unilateral ceasefire in late November and withdrew from some occupied areas. Rao writes, "there were analysts who believed that the intervention of the two superpowers – the U.S. and the Soviet Union – forced the Chinese army to retreat."
In the end, India lost control of Aksai Chin, a strategic region connecting Xinjiang and Tibet. The nation's morale "lay in tatters."
After the war, India began a major push to modernize its army. Moscow recalibrated its relationship with New Delhi and resumed the sale of military hardware. By 1964, the Soviet Union had become virtually the sole supplier of low-cost arms, technology, and military equipment to India. The United States' role in the 1962 war was largely forgotten.
The China-India border lay quiet for decades. But there are new tremors along the "spine of Asia": a fatal skirmish in Ladakh in the summer of 2020, heavy troop buildups on both sides, and satellite images of construction in disputed areas.
"The hindsight of history is both revealing and sobering," writes Rao, referring to the missed opportunities to settle the 2,100-mile long "kinetic" frontier during the 1950s. Those leadership failures haunt "the world's largest democracy till this day."
Soon after the invasion of Ukraine, Rao hinted at India's vulnerabilities on its eastern frontier. In an interview, she said the "sanctity of international borders" had long been an "article of faith" of India's foreign policy. In a post, she urged policymakers to focus on the big picture, particularly the evolving relationships in the Indo-Pacific: "We are at a crossroad today … We must choose our friends and partners very carefully."