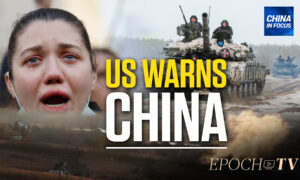 Accusations are flying as Russia's war on Ukraine rages on. Beijing voices its own take on who is to blame.
Washington issues a serious warning to China, addressing Chinese companies that might help Russia go around American sanctions.
How are Western sanctions on Russia impacting China? And what would a China-Russia alliance mean to the Indo-Pacific region? Intelligence heads from the U.S. and Australia explain.
Are U.S. companies in China happy where they are? Or are they looking for a new home base? A new survey gives some insight.
Chinese state-backed hackers have compromised several U.S. government networks. A new report explains how it happened, and what information is at stake.
Outside cyberspace, Beijing's infiltration is also expanding physically through China's Belt and Road Initiative.
What was China like before the Communist Party took power? Crowds of British theater-goers got a glimpse into just that.
Have other topics you want us to cover? Drop us a line: chinainfocus@ntdtv.org
And if you'd like to buy us a coffee: https://donorbox.org/china-in-focus
Subscribe to our newsletter for more first-hand news from China.
For more news and videos, please visit us on Gettr and Twitter.