The national average of a gallon of gas in the United States hit a record high on March 7 as prices soar amid the Russia–Ukraine war.
The average price nationwide hit $4.104 on Monday, breaking the record of $4.103 set in 2008, according to GasBuddy.
The record came after the national average spiked 49 cents in just one week, breaking the previous one-week spike set in 2005, the gas-tracking company said.
"Americans have never seen gasoline prices this high, nor have we seen the pace of increases so fast and furious," Patrick De Haan, head of petroleum analysis at GasBuddy, said in a statement. "It's a dire situation and won't improve any time soon. The high prices are likely to stick around for not days or weeks, like they did in 2008, but months."
Experts say the price increases stem from the war, which involves one of the world's major oil producers.
Russia was the world's third-largest producer of petroleum in 2020, behind the United States and Saudi Arabia, exporting much of its supply to Europe, according to the U.S. Energy Information Administration. Sanctions on Russia for invading Ukraine have caused ripple effects across multiple sectors, including the energy sector.
President Joe Biden is "going to do everything he can to reduce the impact" of the war on Americans, "including the price of gas at the tank," White House press secretary Jen Psaki told reporters in Washington around the time the new record was set. The sharp rise in gas prices "is a direct result of the invasion of Ukraine," according to Psaki.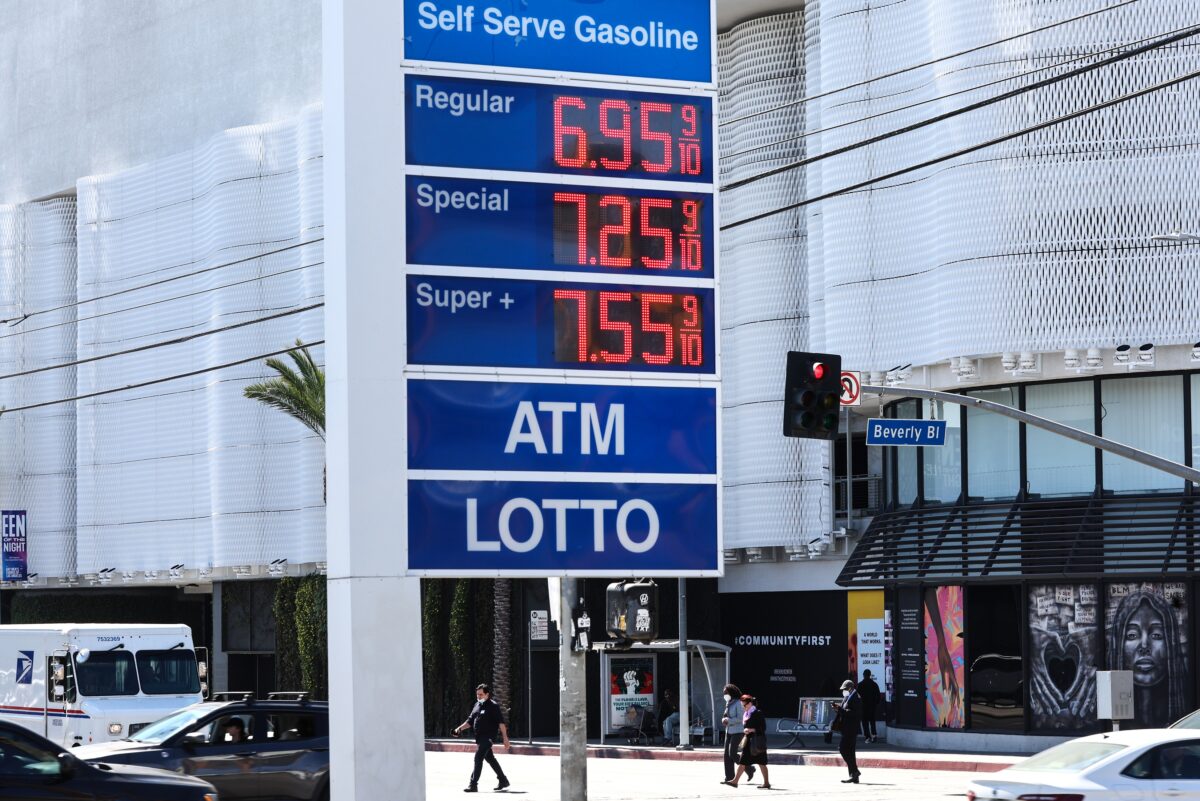 The Biden administration has so far refused to roll back Biden's 2021 executive order that halted oil and gas leases on public lands, with officials saying that there are some 9,000 permits that are already approved but not being used.
The administration recently released tens of millions of barrels of oil from the strategic reserve and is weighing further actions, including engaging in discussions with Venezuela about rolling back sanctions on President Nicolas Maduro's regime.
Officials are also considering a move—banning Russian oil—that would likely send prices up even more.
Analysts said the strategic release was not nearly enough to alter markets and that, as of now, there are few signs that prices will slow down.
There's "no end in sight to this paroxysm," Tom Kloza, founder of the Oil Price Information Service, wrote on Twitter.
The GasBuddy national average was slightly higher than a similar measure offered by the American Automobile Association, which pegged the average nationwide as $4.065 midday Monday.
Prices neared $7 a gallon in some parts of California, including Los Angeles, and in other states with high taxes.
The average price of a gallon of diesel is also on the rise, according to GasBuddy, hitting $4.63 on Monday and projected to break the record of $4.86 within the next two weeks.