SANTA CRUZ, Bolivia—Accusations of narcotics smuggling, bribery, and collusion have piled up against former Honduran President Juan Orlando Hernández, culminating in an arrest at his private residence in Tegucigalpa, Honduras, on Feb 15.
Following Hernández's apprehension, his wife, Ana Garcia, said in a Feb. 21 statement that drug cartels were seeking revenge for their members being extradited to the United States during Hernández's administration, which she said was the motive behind his sudden capture less than a month after leaving office.
Garcia's accusation echoes Hernández's own comments from November 2021, when he claimed drug cartels sought revenge on him by creating trouble with the U.S. justice system, driven by his self-proclaimed tough stance on narco-trafficking during his administration.
"Before they pointed their weapons like bullets, now they point lies," Hernández said.
Devis Leonel Rivera Maradiaga, a convicted drug trafficker and former leader of the Los Cachiros cartel, claimed during his trial in March 2021 that he paid Hernández $250,000 in protection money in 2012 so that "the military police … would not capture us in Honduras."
During the time of the alleged transaction, the former head of state was president of the Honduran National Congress.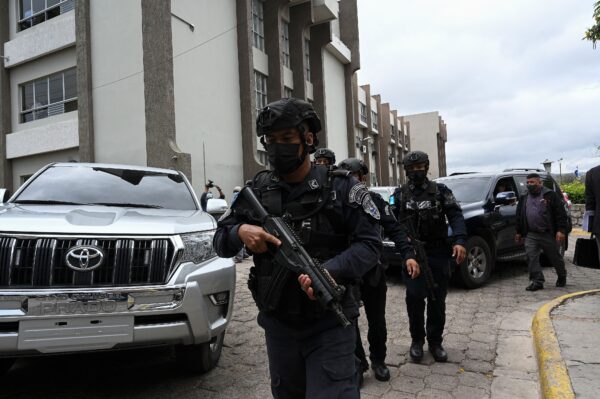 Hernández has staunchly denied the allegations. The former president awaits a handover and trial in the United States for drug and weapons smuggling.
U.S. officials sent a request for extradition to the Honduran justice department the day before Hernández's arrest. Consequently, Judge Edwin Ortez ordered Hernández to be put in preventative detention until March 16.
Shortly after that decision, the former president's legal defense team filed a request on Feb. 21 for the preemptive internment to be served at his home.
In November 2021, Hernández said his anti-drug policies resulted in a 95 percent reduction in northbound drug trafficking through Honduras, which he claimed the U.S. State Department and U.S. Southern Command applauded. However, neither U.S. officials nor Xiomara Castro, the current president of Honduras, share Hernández's view.
Castro denounced the rampant drug smuggling in Honduras that took place during her predecessor's administration.
In 2019, Honduran law enforcement seized a total of 2,218 kilograms of cocaine. In 2020, 31 illegal airstrips were identified for flying drug shipments to the United States. An astounding 2,830 kilograms of cocaine were seized by October 2020, pointing to the likelihood of narco-trafficking air routes still being in operation.
The U.S. Department of Justice provided evidence of 185,000 kilograms of cocaine manufactured and transported into the United States from Honduras over the course of 15 years, the majority of which occurred during Hernández's tenure.
U.S. Secretary of State Antony Blinken released a statement on Feb. 7 that "declassified and disclosed" the inclusion of Hernández on the "List of Corrupt and Anti-Democratic Actors," which was initiated by the United States in accordance with a law of greater collaboration between Washington and the Northern Triangle nations of Guatemala, Honduras, and El Salvador.
The statement also outlined that people added to the list aren't eligible for a visa to the United States. The State Department placed Hernández on the list on July 1, 2021.
U.S officials have kept the former president in their crosshairs for years, especially since the arrest and trial of Hernández's brother, former congressman Juan Antonio "Tony" Hernández, who was sentenced on March 30, 2021, to life in prison in the United States for smuggling cocaine and firearms into the country.
He was caught during his brother's time as president in October 2019 and was part of what the Department of Justice for the Southern District of New York called a "state-sponsored drug trafficking conspiracy."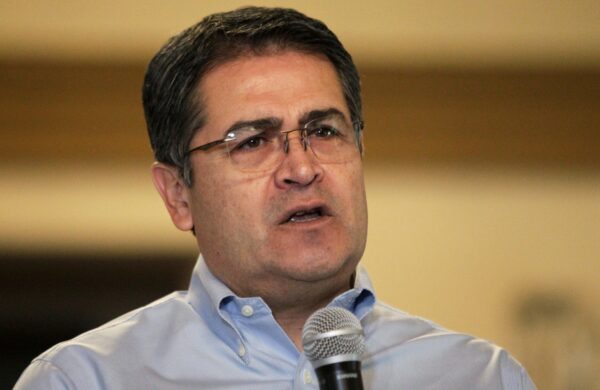 Yet the trail of evidence pointing to the former president's involvement in drug smuggling doesn't stop there.
As early as 2005, Hernández has been linked with narcotics-related bribery, reportedly accepting $40,000 in drug profits from Víctor Hugo Díaz Morales, or "El Rojo," while serving as a deputy in the National Congress.
Hernández also accepted $1.5 million from Ardon Soriano, which came from drug profits, during his presidential reelection campaign in 2017.
"It's not an easy time, I wish this on no one," he said after being arrested, noting that he's "ready and willing to collaborate" with the justice system.
The Epoch Times contacted the U.S. State Department and the U.S. Department of Justice, both of which declined to comment.