The United States on Monday announced it will expel a dozen Russian diplomats to the United Nations over national security concerns.
Russia's U.N. Ambassador Vassily Nebenzia told Reuters that he and the diplomats were asked to leave the United States by March 7, adding that they would do so "because it's diplomatic practice."
U.S. Deputy U.N. Ambassador Richard Mills issued a statement, confirming the development.
"Those diplomats that have been asked to leave the United States were engaged in activities that were not in accordance with their responsibilities and obligations as diplomats," he said, without elaborating.
They were asked to leave "so they do not harm the national security of the host country," Mills said, adding that the decision was made in full accordance with the United Nations headquarters.
Nebenzia spoke at a U.N. press conference earlier on Monday, saying that some footage and images of the war in Ukraine are "incredible fakes," although he did not elaborate on what he believed were fakes. Some stories about the Ukraine conflict that went viral have not been confirmed.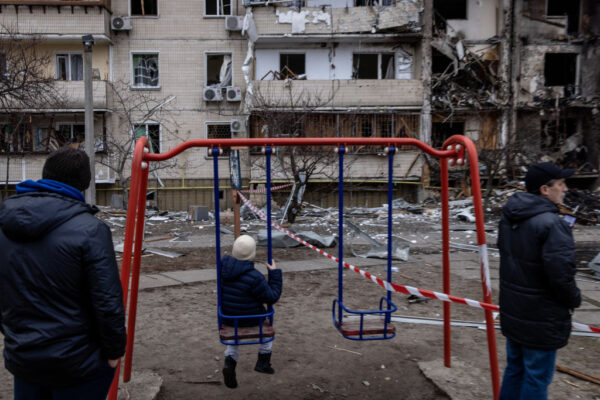 "Ukraine might and will perhaps become a NATO member. That will move NATO to the Russian border. And that will be an existential threat for us," he also said Monday.
Over the weekend and on Monday, the United States and the European Union hammered Russia with far-reaching sanctions, including penalties to Russia's Central Bank.
A top Kremlin aide and head of the Russian delegation, Vladimir Medinsky, meanwhile, said that talks between a Ukrainian delegation and Russia "found certain points on which common positions could be foreseen," according to reports. The two agreed to continue the discussions in the coming days.
As the talks wrapped up, several blasts could be heard in Kyiv, though few details were immediately known. Russian troops, while attacking on multiple fronts, continued to advance slowly on the capital city of nearly 3 million people.
A 17-mile convoy consisting of hundreds of armored vehicles, tanks, artillery, and support vehicles was 17 miles from the center of Kyiv, according to satellite imagery from the Maxar company.
Video from Ukraine's second-largest city, Kharkiv, showed residential areas being shelled, with apartment buildings shaken by repeated, powerful blasts. Flashes of fire could be seen along with gray plumes of smoke.
The Epoch Times has contacted the State Department for comment.
The Associated Press contributed to this report.