One million American-made bullets will soon be in the hands of Ukrainian soldiers thanks to an Arizona company and a legendary NASCAR team owner.
Fred Wagenhals, the owner of the Scottsdale-based Ammo in Arizona, told The Epoch Times that it is his honor to supply Ukrainian soldiers with the ammunition—enough he said to "arm 34,000 AK-47s with a clip of 30 rounds in each gun."
With some irony, the AK-47 assault rifle is known in Russia and Ukraine as the Kalashnikov and was developed in the Soviet Union by a Russian small arms designer.
"As a company, we like freedom. We believe in democracy," Wagenhals told The Epoch Times, "Because of the Second Amendment, you can't land on one our shores and try to take over this country because there are too many guns and too much ammunition."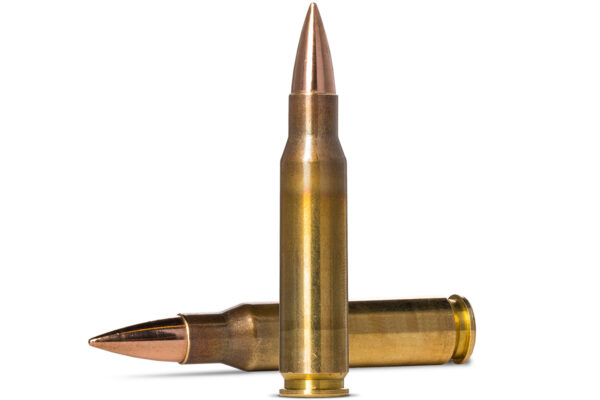 In likening Russia's attack on Ukraine to the Vietnam War, Wiggenhals added, "you can't just go into another country and take it over like that."
Ammo. is the fifth-largest U.S. maker of ammunition and the parent company of GunBroker.com, the largest online marketplace for firearms.
While he couldn't reveal all the details about getting the ammunition to the soldiers, Wagenhals told The Epoch Times his shipment is already in Europe and expects the bullets to be distributed to Ukraine's ground forces by this weekend.
The idea to send it came from his good friend Richard Childress who serves on Ammo's board of directors. To race car fans, Childress' name will be immediately recognizable.
His NASCAR team Richard Childress Racing (RCR) is a six-time winner of the Cup Series, all with fabled race car driver Dale Earnhardt, and a three-time winner of the Daytona 500.
In an interview with The Epoch Times, Childress said he was inspired by Ukraine President Voldomyr Zelinsky's response to President Joe Biden's offer to fly him out of his war-torn country during the ongoing Russian attack there.
Putin a 'Schoolyard Bully'
"I need ammunition, not a ride," Zelinsky said in a heroic battle stance broadcasted around the world.
"It's an inhumane thing that's going on right now from Russia."
Childress told The Epoch Times, "We got to help them and they need help bad right now."
He likened Putin to a "schoolyard bully"  who is serving his own self-interests.
Ammo joins with a number of countries that have sent ammunition and weaponry including the United States.
Last week, the Biden administration reported that it had sent anti-aircraft missiles as well as firearms and ammunition to Ukraine and Secretary of State Antony Blinken announced the United States was providing $54 million in what he called "humanitarian assistance to those affected by Russia's further invasion."
On Mar. 2, the House overwhelmingly passed a bill calling for "additional and immediate defensive security" by the U.S. to Ukraine. It also called for a ceasefire and full withdrawal of Russian forces.
The bill, titled HR 956, was passed with a 426-3 vote with only three Republicans dissenting, one of them being Wigenhall's own Congressman Arizona Republican Paul Gosar.
Gosar tweeted that while he supported Ukrainians, he found the resolution to be potentially dangerous to Americans.
"I will not send constituents to die in another unconstitutional war with no U.S. national security interest," Gosar tweeted.
Former US Paratrooper Joins Fight
In addition to the proposed resolution and existing funding, the Biden administration has also asked Congress to approve $6.4 billion to support a U.S. response to Russia's attack on Ukraine.
Wiggenhals told The Epoch Times that he feels the United States and other countries haven't done enough to help Ukraine and strongly believes NATO forces should deploy forces to help Ukrainians.
On Tuesday, a former U.S. paratrooper from the 101st Airborne Division who has been living in Ukraine, told Fox News in a live TV interview, that he has decided to fight along with the Ukrainian soldiers out of a "moral obligation."
The U.S. combat veteran, who said he has helped train Ukrainian civilians in combat, called Ukraine some of the best people in the world "as good as any of our friends and allies of America."
He also called upon help from the United States noting that historically American presidents have always been an arsenal of democracy to their European allies.
"This is another epic time in history and Americans need to show military leadership and courage and stand with their European allies and brothers."
Wiggenhals, a die-in-the-wool Republican, believes Putin is striking now because he recognizes he has a rare window to escape punishment from the largest military forces in the world—being the United States—because he knows the current administration won't use it to stop him.
It is one of a myriad of opinions among conservatives camps about the Russian attacks on Ukraine with others blaming Ukraine for defying Putin's historic opposition to bringing NATO closer to western borders.
Many fear that any aggressive allying by world forces will bring on a war that could lead to a nuclear holocaust.
Flood of Support
Wigenhals and Childress both said they have received support from several U.S. lawmakers, including Congresswoman Mary Miller of Illinois and Indiana Congresswoman Victoria Spartz, who has been especially outspoken against Russia's attack on Ukraine.
Spartz and Wigenhals could not be reached for comment by The Epoch Times.
According to Childress, when they ran into some obstacles in transporting the donated ammunition to Ukraine, Spartz commented "she would carry it to Ukraine herself if need be."
Miller, in a series of recent tweets on Russia's invasion, has been especially critical of the Biden administration, stating "none of this would be happening if President [Donald] Trump was still in the White House."
In a recent press release, Miller blamed the Green New Deal, a largely-Democratic supported public policy under which the United States continues to buy about 10 percent of its oil from Russia instead of tapping into America's oil reserves.
Wagenhals told The Epoch Times that since announcing the ammunition donation on the company's website he has received a flood of support and offers of financial support from shareholders, customers, and complete strangers from around the world who back sending bullets to Ukraine.
One businessman, he said, called to send him a check for $25,000 to help pay for the ammunition he's sending to Ukraine's armed forces.