The Taiwanese president honored former U.S. Secretary of State Mike Pompeo on March 3, praising Pompeo's backing of the democratic island during his time under former U.S. President Donald Trump.
"Just now, the Order of Brilliant Star with Special Grand Cordon was presented to Mr. Pompeo for his contributions to advancing Taiwan–U.S. relations," President Tsai Ing-wen announced during the meeting with Pompeo, expressing her "deepest gratitude" on behalf of the Taiwanese people.
"Secretary Pompeo is not only a long-term supporter of Taiwan's international participation; he has also facilitated multiple breakthroughs in Taiwan–U.S. relations," Tsai said following the award ceremony at the Presidential Building in Taipei.
Pompeo said he was honored to meet with Tsai and accepted the privilege.
The former secretary of state arrived a day earlier on a four-day visit, as another five-member delegation sent by President Joe Biden wrapped up a two-day visit to Taiwan after meeting with Tsai.
Marking his first visit to the democratic island, Pompeo said he had long been looking to meet the people of Taiwan, who he said were "noble and caring and loving and freedom-demanding."
"It's wonderful, most of all, to be here with the Taiwanese people, who I have come to know and love, albeit from afar," Pompeo said, wearing special masks printed with both the Taiwanese and U.S. flags, as well as traditional Chinese characters that read "rock-solid," referring to the bilateral partnership.
The Trump administration deepened ties with Taiwan from 2018 until the end of Trump's presidency, including arms sales and laws to help Taiwan deal with pressure from China, and support for Taiwan's participation in major international organizations.
As one of his final acts as secretary of state, Pompeo announced the removal of all "self-imposed restrictions" on contact with Taiwanese officials in early 2021, which he said had been used to "appease the communist regime in Beijing." For decades, China has claimed the self-ruled Taiwan as its own territory and deemed the island the most sensitive issue in its ties with the United States.
Pompeo said in a U.S. radio interview in late 2020 that the island, which the Chinese Communist Party hasn't ever ruled, has not been a part of China under Beijing's governance.
"One of the things I learned, now some 40 years ago, when I was a young soldier," Pompeo said on Thursday, "was that to do the right thing is both proper and necessary, and to demand the leaders provide their citizens with freedom and prosperity and stability matters an awful lot."
"Madam President, you have done that in such a noble, wonderful way," he added in his remarks to Tsai.
Those who are mistaken or complacent about the risks to freedom should learn from the currently unfolding crisis in Eastern Europe, Pompeo said, calling for "deep, concerted, focused leadership" from freedom-loving allies.
The former diplomat has won recognition and popularity across Taiwan, according to Tsai, who called him a close friend of the country.
Thank you for this warm greeting sign! Susan and I are looking forward to being with you — the freedom-loving Taiwanese people soon! pic.twitter.com/L4iNcz2uPz

— Mike Pompeo (@mikepompeo) March 1, 2022
In 2021 China imposed sanctions on Pompeo in response to his tough-on-China policies, along with 27 other top Trump-era officials, barring them and their immediate family members from entering mainland China, Hong Kong, and Macau. It came a day after Pompeo declared Beijing's repression of Uyghur Muslims in the Xinjiang region a "genocide" as Biden was sworn into office as the 46th U.S. president.
China's top newspaper lambasted him again on March 3 as an "anti-China politician" and a "liar."
The visiting delegation in Taipei included Pompeo's wife Susan, former Pompeo adviser Miles Yu, and the Championing American Values PAC Executive Director Jim Richardson. Taiwan's Foreign Minister Joseph Wu, National Security Council Secretary-General Wellington Koo, and Secretary-General to the President David T. Lee also attended the ceremony.
"I'm going to enjoy the dried pineapple very much," Pompeo said, expressing his happiness at being in Taiwan.
"And I know that I'm going to enjoy even more than that, the opportunity to meet the Taiwanese people and thank them for all they have done [and] all they're doing today."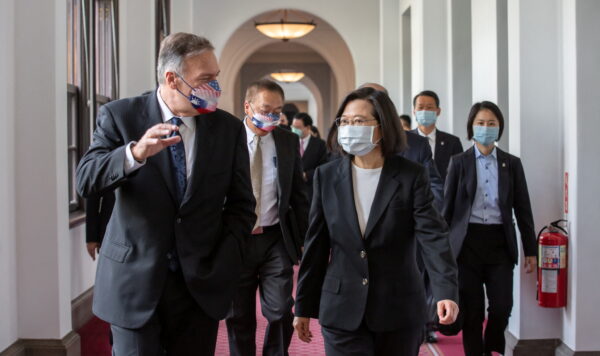 As power outages hit large parts of Taiwan earlier on Thursday, a live meeting broadcast was temporarily canceled an hour before the meeting began.
Pompeo is expected to give a keynote speech at a think tank on March 4.