SANTA CRUZ, Bolivia—During recent official visits to Venezuela, Nicaragua, and Cuba, Russian Deputy Prime Minister Yury Borisov spoke of deepening economic and military ties with the respective socialist and communist governments of its allies in the Americas.
Russia's chairman of the State Duma, Vyacheslav Volodin, also visited Cuba on Feb. 23—and Nicaragua on Feb. 24—making it Russia's second official diplomatic meeting with anti-U.S. regimes in Latin America in a week.
Volodin's state visit occurred within hours of Russia's attack on Ukraine.
Some experts believe a new Cold War-era stage has been set in the Western Hemisphere, and Latin America political analyst Fernando Menéndez said, "That's exactly what they want us to think."
He noted that it makes sense to get Russia's allies in the U.S.'s backyard on the same page diplomatically and militarily, especially given the full-scale invasion Russia launched on Ukraine.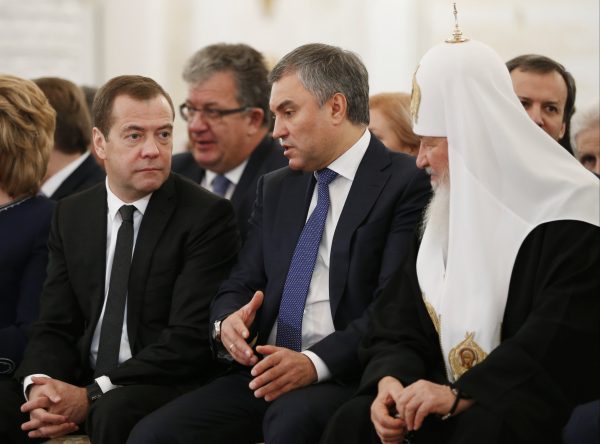 After the Feb. 23 meeting in Cuba, Volodin said the island nation's communist regime supports Russia's position on Ukraine.
He also mentioned that Cuba "emphasized that no state should ensure its own security at the expense of the security of other states. Cuba is ready to defend this point of view together with Russia in the international arena."
Borisov's visit to Venezuela on Feb. 16 focused on military and economic objectives. After the meeting, President Nicolàs Maduro said Russia and Venezuela were on the "path of powerful military cooperation."
The Russian deputy prime minister reinforced the message during a visit with Nicaraguan President Daniel Ortega in Managua, Nicaragua, on Feb. 17.
"For more than 40 years, we have been providing technological and military support to your army and we are going to continue offering our support," Borisov told Ortega.
Ortega quickly voiced support for Russia in Ukraine during the audience with Borisov, saying "the [2014 "Revolution of Dignity"] coup in Ukraine" shouldn't be forgotten, comparing it to the widespread protests against his government in Nicaragua over changes to the national pension system in 2018.
Borisov also visited the Cuban communist regime's president, Miguel Díaz-Canel, on Feb. 18. to reaffirm ties between their nations. Officials in the former Castro regime were quick to condemn what they called "unfair sanctions" imposed on Russia and affirmed their support for Moscow in Ukraine.
This isn't the first time in recent years that Russia discussed or even executed a military build-up with sympathetic regimes in the region, which sits on the periphery of the United States.
During the clash over Russian-backed separatists in Georgia in 2008, the administration of President Vladimir Putin sent Tu-160 nuclear-capable bombers to Venezuela, followed by four warships.
In 2013, Russia sent Tu-160 bombers back to the region as tensions mounted with the United States and the European Union over Russia's support of separatist movements in Ukraine. Putin's administration shipped over bombers again in 2018.
While the stockpiling of Russian military assets in Venezuela has caught the eye of Washington, a similar initiative has been underway in Nicaragua. In 2015, the Nicaraguan National Assembly voted to allow Russian warships to dock in the nation's ports.
"It's a signal. Russia wants the United States to know they're in the neighborhood," Menéndez said.
He also explained that, unlike China, there are limits as to how far Russia can extend its military presence in the Western Hemisphere because of limited economic resources. This has become even more prevalent now that Putin has committed to invading Ukraine.
"Just how much they can devote to these regimes remains to be seen," Menéndez said.
The U.S. State Department declined to comment to The Epoch Times.